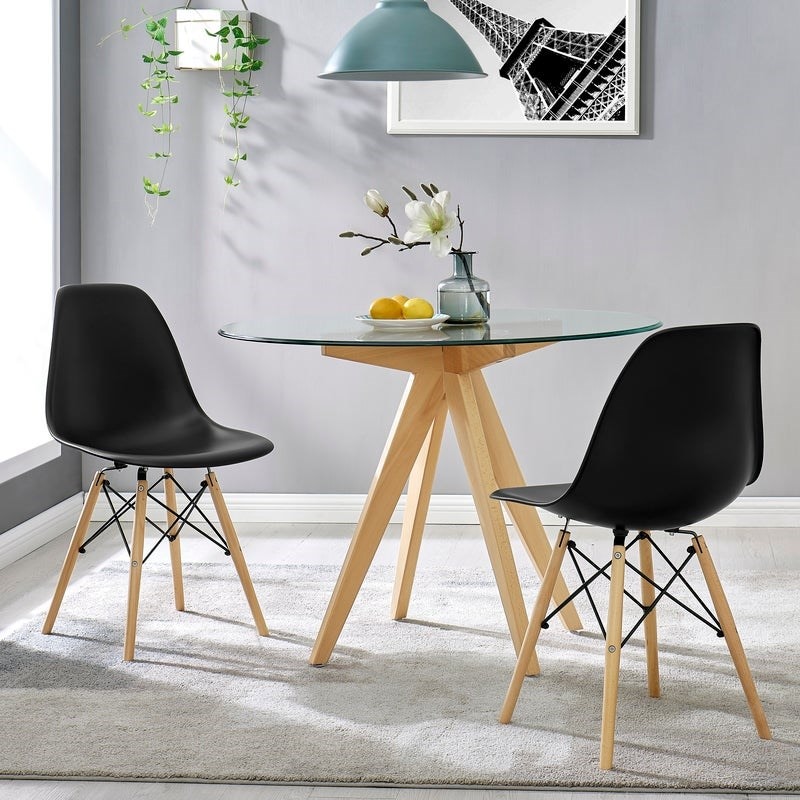 Dining rooms are an essential gathering place in any home. Perfect for Sunday morning breakfast, fancy dinner parties or family game night. The options are endless, and dining chairs play an integral role in enjoying these activities. The right seats will make any engagement more enjoyable, whereas the wrong ones can create an uncomfortable experience. Therefore, it's essential you buy the correct ones.
But choosing suitable dining chairs for your home is no simple process. There's a lot to consider, including price, design, size, material, and functionality. So, it's important you think about your selection wisely.
Save time, money and take the work out of purchasing new dining chairs with our buying guide. Full of tons of helpful tips and tricks, it's never been easier to find the right stools for you.
The Correct Size
The first thing you need to consider when buying new dining chairs is the appropriate size for your space.
This starts with the dining table, whether that be an existing bench or one you're ordering instantaneously. For functionality, your chairs should fit securely beneath the table without feeling cramped.
So, plan out the chosen space before you buy. Determine where the best place for your dining set is. The centre of the room is the ideal spot that allows for multiple chairs. However, if you're tight on space, against the wall may be more practical for everyday life.
After you've decided on the placement, it's crucial you measure out your chosen space for easy mobility. You should be able to pull out the chairs completely and still move easily behind them. Consider these guidelines when deciding on proper placement.
- Leave at least a foot or two behind the chairs when fully extended.

- There should be at least 30 cm between the seat of the chair and the tabletop for tons of legroom.

- Choose dining chairs that are 20-24 inches in width to suit all users.

- Rectangular table: Leave 50-60 cm between each chair, so no one hits one another. This also leaves space for extra chairs on special occasions.

- Round table: Needs 75 cm between each seat for functionality.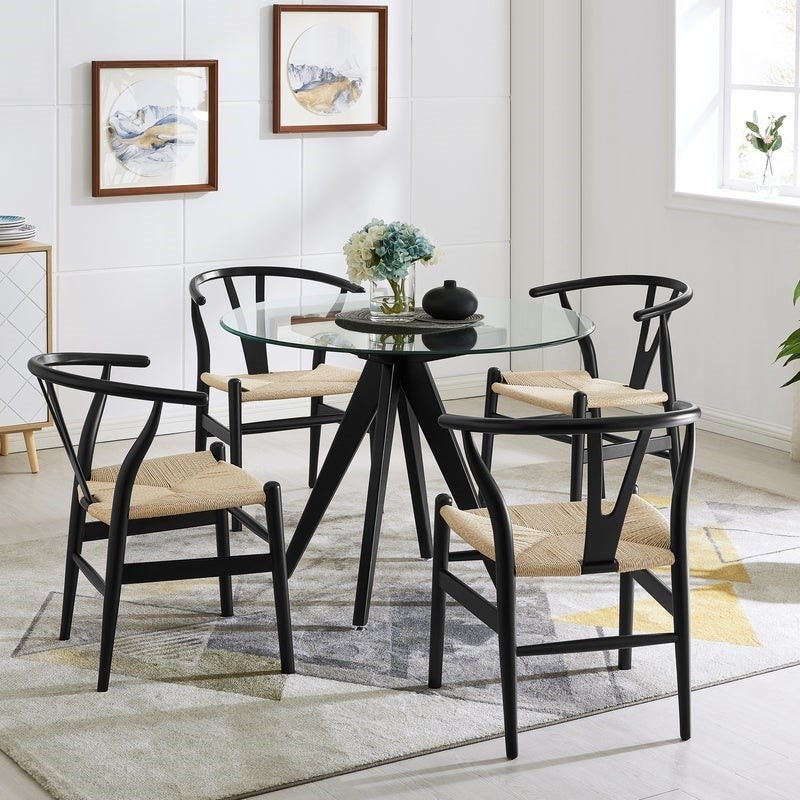 Consider the number of chairs you need
Once you've decided on the proper placement of your table and chairs, it's time to figure out how many seats you'll require. Think about how often you use your dining chairs and how much you entertain.
Do you have guests regularly or perhaps a big family? You'll need at least six chairs to ensure everyone has a spot.
Or do you have a small family or tight space? Then you might only need two or four chairs.
For convenience, dining seats come in different sets, including two, four and six to match your needs.
Choosing the number of stools also depends on what table size you have.
| | |
| --- | --- |
| Size | Capacity |
| 90-110cm length table | Two people |
| 120cm length table | Four people |
| 160-180cm length table | Six people |
| 220cm length table | Eight people |
Please note: The capacity sizes will work for both rectangular and round tables.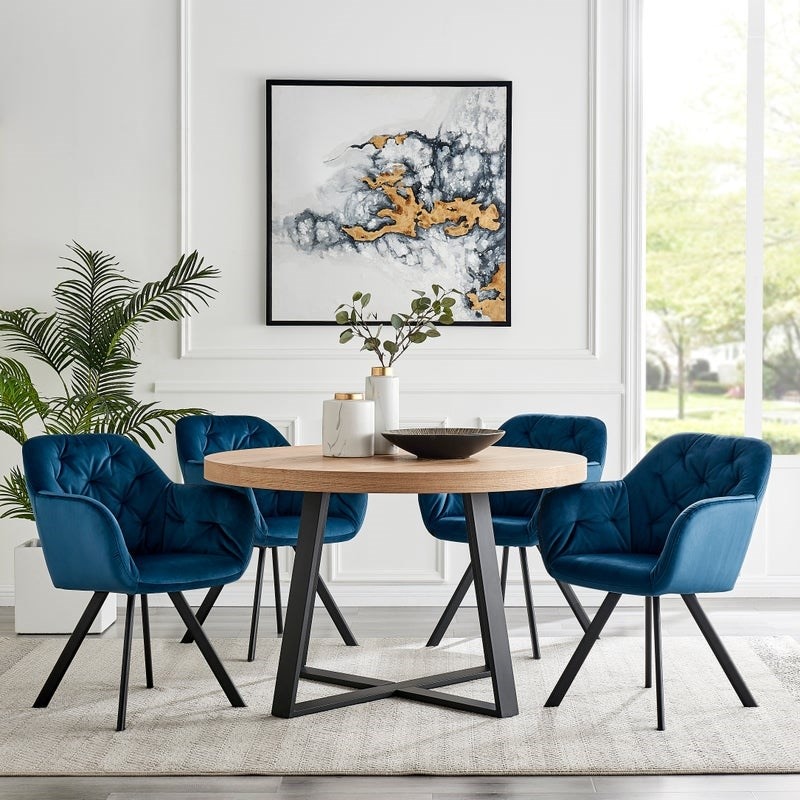 Remember your existing style
While considering size and placement is essential for functionality, your chairs should also look appealing too. As well as complement your existing style.
To decide on the right design for your living room, reflect on the existing elements in the area. Pick out a complimenting colour or material. Rather than focusing on matching every aspect of the chair to the decor in your room.
What Type You Buy Matters
Now it's time to focus on what type of dining chairs you want. There's a variety to choose from that tailor to alternate needs.
1. Side Chairs
The most popular type of dining seats are side chairs. They're similar armchairs, only without arms for functionality. As the name suggests, they generally go on the side of the tables.

A side chair is a lightweight choice that has a sleek design to fit in tight spaces.

Varieties available:

As one of the most frequently purchased seating arrangements, side chairs come with different backs such as:
2. Armchairs
Like side seats, armchairs get their name from their form - a chair with sturdy arms. They're a standard formal option that feels more luxurious to sit in and are generally placed at the head of the table.

While they're not ideal for all users because of their slim armrests, they can offer more support and enhance your relaxation.

Armchairs commonly come with a high back too for superior comfortability.
3. Parsons Chair
Parson chairs are the traditional seating selections. They have a simple design for comfortability and functionality.

Although they look like a side chair, parson seats generally have a taller and solid back rather than an open one. For better support and relaxation.

Their sleek style can add an elegant factor to any space, and they're very appealing too.

Parson chairs are also designed with lots of padded cushioning for deeper and better comfort. Perfect for sitting in for hours.
4. Benches
Bench seats are ideal for compact spaces.

They offer just as much room as regular dining chairs with the bonus of sliding beneath the table when they're not being used.

While benches don't offer as much support as side or armchairs, they have a padded seat and are very practical.
5. Barstools
While they're not a conventional option for dining seating, barstools are a fantastic alternative if you have a tall table. They offer tons of support and plush padding for comfort with a more relaxed feel.

Generally, they feature a mid to high back for alignment and a slim design to fit in any space. They also can come with footrests for added support.

Bar stools are sturdy, versatile and available in a wide selection of styles and materials. So, you can find ones to compliment your existing furniture and products.
Contemplate The Back Support
Chairs come with different back designs for alternate comfort levels and looks. So, you get the right support you need; it's essential to consider the different sizes.
Low Back - These chair backs offer a relaxed feel beneficial for lower back support and alignment.
Mid Back - As the standard design for dining chairs, a mid-back offers a good amount of comfort without feeling too overwhelming in tight spaces.
High Back - For superior support, a high back is an ideal choice as they align your entire back and head.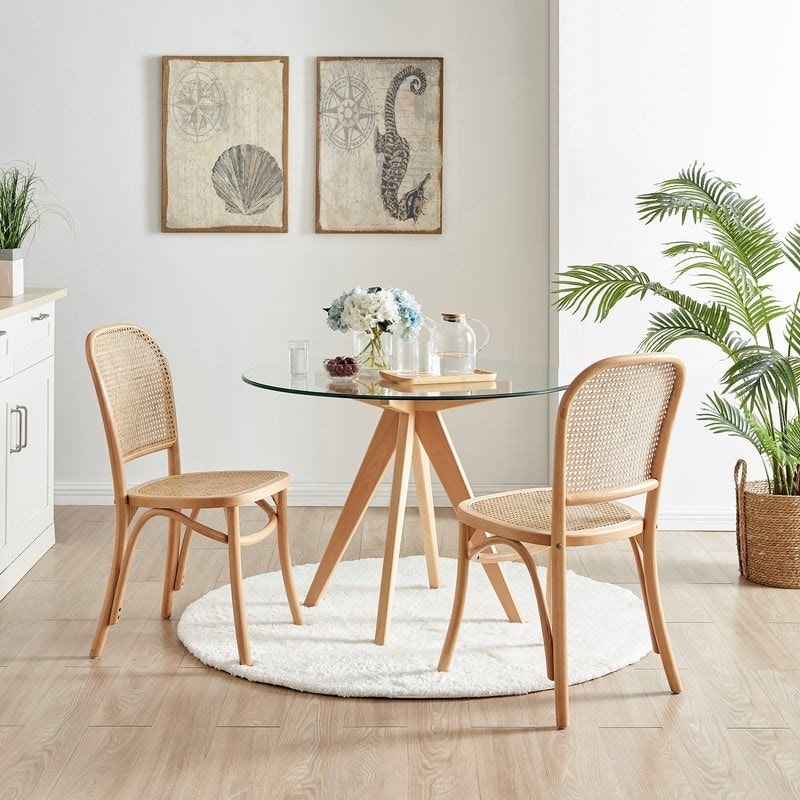 The Material Type Matters
One of the most important decisions to make when deciding on the type of chairs, is what material they're made from. The most common medium choices are fabric, leather, metal, plastic, rattan, and wood. Each material will work better with alternate designs and lifestyles, so it's vital you buy the right type for your unique needs.
Tip: Go for bolder, thicker dining chairs for big spaces and slimmer, simple ones for tight spaces. Both will fill the areas better.
Material:

Benefits:

Suitable For & Disadvantages:

Wood

Wood is a timeless material that never goes out of fashion. It can bring warmth to any space and is highly durable.

As a popular choice, it comes in a wide range of sizes and materials for convenience. It's also very low maintenance and a practical material choice.

It blends elegance with functionality for a sophisticated option, and is a fantastic long-term investment.

Perfect For:

- Families with kids.

- Pet households.

- Contemporary, modern,rustic, chic, or farmhouse styles.

Disadvantages:

- Wood isn't always as comfortable

as fabric dining chairs for extended seating support.

- Wood can look odd with matching hardwood floors. So, either choose another shade or different material.

Acrylic

Highly durable and extremely easy to clean, acrylic dining chairs are an excellent choice that have a stylish look.

They're more affordable than other options and impact resistant.

Plastic chairs commonly feature a mid to high back for proper support.

Perfect for:

Pet households

Modern or contemporary styled homes

Disadvantages:

Plastic doesn't come in a wide variety, so it won't match every style.

Plastic can also be uncomfortable for long seating periods.

Metal

Metal furniture is superiorly durable and easy to keep clean. These chairs are incredibly lightweight for easy mobility and have a classy look.

Metal chairs are built to last and is a quality long-term investment. Its

durable design will withstand any weight to suit all users.

Perfect for:

Kids or pets filled families.

Contemporary styles.

Allergy sufferers.

Dining rooms with existing bold furniture.

Disadvantages:

Metal can be cold to the touch and not overly warming.

Metal isn't as comforting as fabric chairs.

Fabric

Fabric chairs are incredibly stylish and can brighten any space instantly.

It's the best choice for long-term comfort that has plush padding for support.

Fabric is a classy dining chair choice that looks luxurious and appealing to the eye.

Perfect for:

Every style

Families without kids

Dining rooms with existing simple furniture

Disadvantages:

Fabric isn't recommended for families with kids or pets as it's delicate and not easy to clean.

Best to avoid if you're an allergy sufferer as fabric can attract dust and dirt. Instead, opt for a leather fabric.

Rattan

Rattan based furniture can add texture and a stylish appeal to a range of rooms.

It's a natural substance that's durable and lightweight.

Rattan dining chairs are also a very affordable choice that comes in a range of sizes and designs.

Perfect For:

Allergy sufferers - it's a natural medium that's good for your health.

Kids – Rattan can withstand and repels liquids.

Dining rooms with existing wooden furniture

Disadvantages:

Fabric can be damaged if not look after properly.

Best to avoid if you have pets, who can ruin that delicate medium.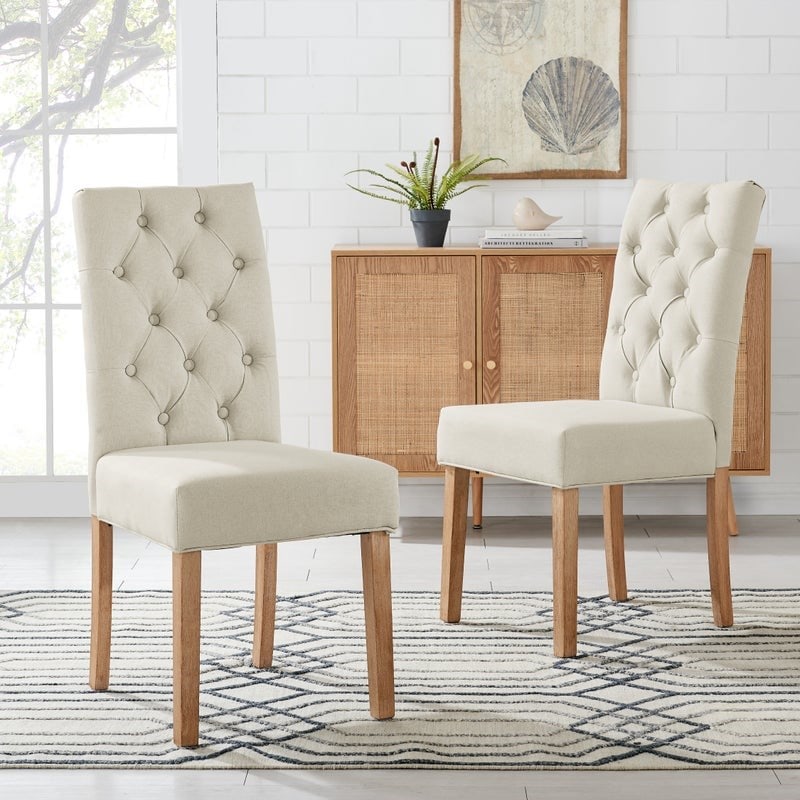 Choosing the Right Colour
With the type and material out of the way, it's time to decide on the shade you'd prefer your dining chairs to be. So, they suit the existing colours in your room.
As a rule of thumb: Your dining chairs shouldn't be twins to your existing decor but rather sisters with similar features.
Try matching the shade of the chairs to the subtle colours in the room, such as a photo, artwork, or pendant light.
If you don't have much colour in your room, this is an excellent opportunity to add some.
Or perhaps you already have plenty of colour in your space? Then you should consider a neutral option.
If you're unsure what hue will work well with the shades in your room, the colour wheel can provide some guidance. The opposing shades on the wheel generally work better together. Such as red and green, orange and blue or green and magenta.
Do Chairs Have to Match?
Chairs don't have to pair together if you'd prefer they didn't. In fact, it can look more appealing and rustic if they don't. However, just like when deciding on a shade, it's essential to have a recurring feature between them, like the material, colour, design, or style.
For proper styling, it's beneficial that your chairs don't match your dining table. As it can look odd and out of place.
TIP: Consider your personality and what chairs you like, rather than focusing on the perfect style. You'll be looking at these seats every day, so you'll want to ensure you like their appeal and feel.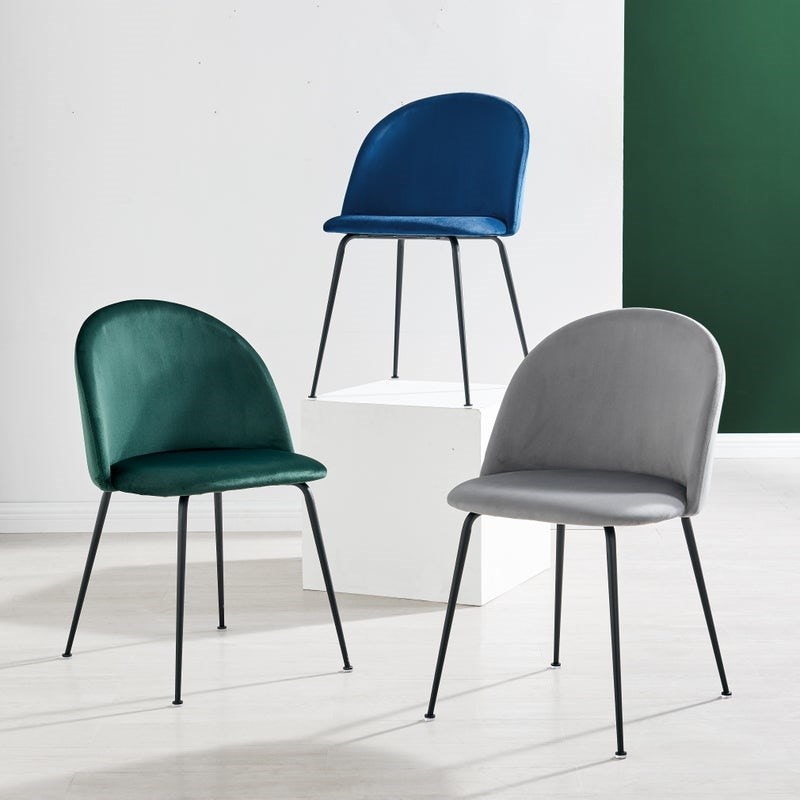 Other elements to consider
The feet of your chosen chairs - Different chair types can affect alternate flooring. Some can scratch hardwood floors, whereas others can make a permanent impression on the carpet.
Before you buy, investigate the description of your chosen chairs, and see if they come with a protective cover, or padding feet. If they don't, consider buying some. Or you could buy a
rug instead, which will protect both hardwood and carpeted floors.
Covers to protect your chairs - If you're buying delicate dining seats such as velvet or upholstered, it's crucial to consider some covers (available HERE) to slip over chairs for added protection. These mediums can damage easily and are high maintenance, so covers will prevent these issues and uphold their integrity.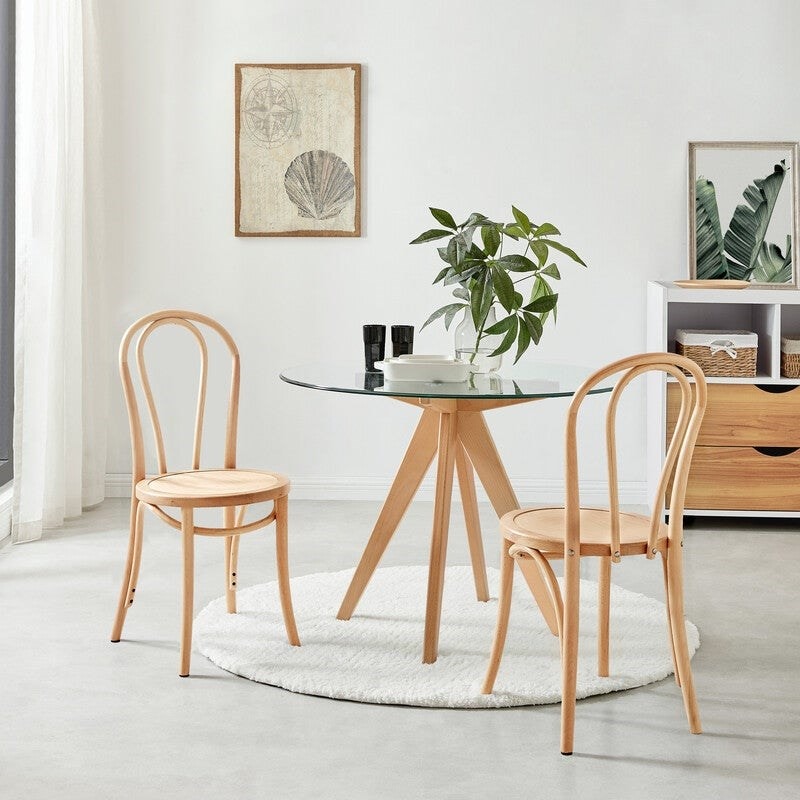 The Price Of Dining Chairs
The exact price of a dining chair depends on the size and material you buy. Upholstered seats are generally more expensive, whereas the popular choice of wood is more affordable than acrylic options.
The price of the chairs also depends on how many you're buying and where from. They can range from $100 to $1,500. But at MyDeal, we offer dining chairs at exceptionally low prices from $60-100.
General tips
- Are you buying individual chairs? Remember to keep a corresponding element between them all, so they don't look out of place.
- Match your lifestyle. Functionality is the most essential thing to contemplate when considering any element of the chairs.
- Measure the space and double-check for accuracy. So you don't have to return the seats once you've bought them.
- Are you renting? Think about buying neutral chairs that are versatile and will work in any space when you move.
- Quality is important – So your chosen chairs last a long time.
- Remember, dining seats should always be sturdy and practical.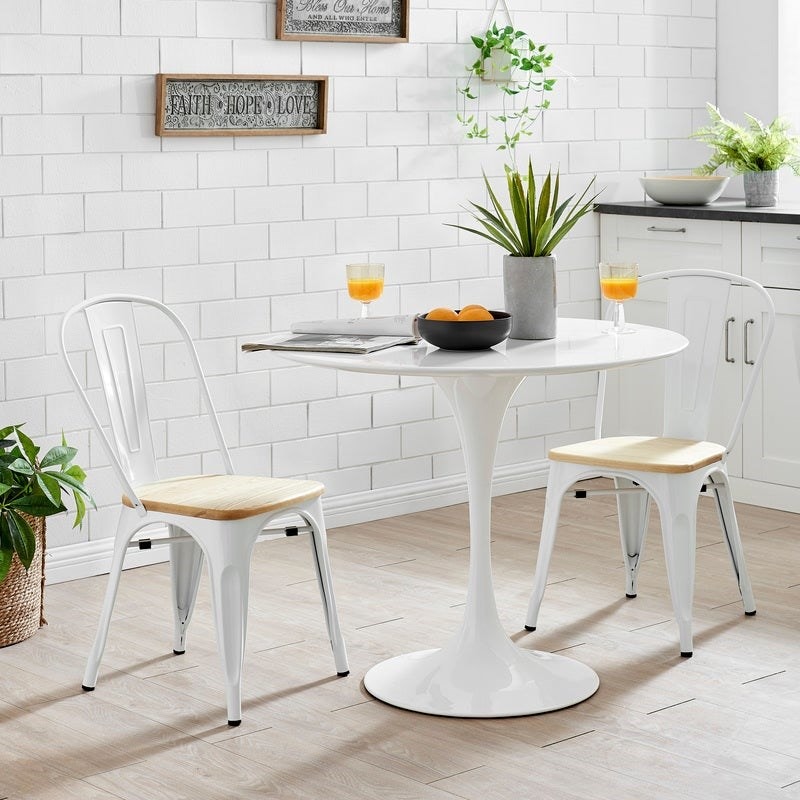 Ultimately, the most crucial tip to remember when buying new dining chairs is to keep it practical. At the end of the day, if your dining chairs aren't functional for everyday life, you probably won't get much use out of them. So, ensure they always match your personal needs and likes above all else.
MyDeal has a massive range of quality dining chairs in various designs, materials and sizes so, you can find the perfect ones for your dining room. Check out the collection of dining chairs.
Still not sure what to choose? Leave us a comment, and we'll help you answer any issues.