How To Purchase The Right Mattress For Your Bed?
A mattress is a crucial investment for your home. The right one offers superior support and fantastic comfort - you should feel like you're sleeping on a cloud.
When you wake up in the morning, do you feel well-rested? Or do you feel like you've been up half the night tossing and turning? It could be time for a new mattress. But coming to the harsh reality that you need a new bed can feel like a nightmare.
All the options, different types, styles and features can quickly overwhelm anyone. But if you remember these simple tricks and tips, finding the best mattress for you is a breeze.
When Should You Replace Your Mattress?
As a rule of thumb, mattresses need to be replaced every six to eight years. Of course, it can last longer - it just depends on how you use and maintain your mattress.
If you use a mattress protector and clean it regularly, you could find you don't need to buy a new mattress as often. But if your bed has lumps, is uneven or uncomfortable, it's probably time for a new one.
The Right Size For Your Needs
The first element you need to consider before buying a mattress is the type of bedroom it's for.
Is it for your bedroom? Guest room or your child's room? Beds come in various sizes to fit different areas and sized people. Single, King-Single, Double, Queen and King are the standard ones.
TIP: The mattress size you choose should be at least 10-15cm longer than the tallest person sleeping in it. Pick the largest mattress your space can support without feeling cluttered and cramped.
Measure out your space twice for an accurate reading, then choose a size that best fits the room with your handy guide below.
Different Sizes:
1. Single (92 x 187cm)
Ideal for toddlers or young children. Single mattresses are a great option if you're creating a one-space guest bedroom in your apartment or for children who have outgrown their crib.
TIP: A double mattress is the same length as a single. So, if you're tight on space but still want enough room to spread out on, a single bed is a fantastic option.
2. King Single (106 x 203cm)
Ideal for a child or single-guest bedroom. Offering some more space than the single, a king-single mattress is a fantastic option for pre-teens or a spacing choice for a guest bedroom.
3. Double (137 x 187cm)
Ideal for two guests, teenagers or singles. If your teen moves a lot in their sleep, a double mattress offers tons of room. So, they can toss around without falling off. It also provides plenty of luxurious space for the perfect rest.

4. Queen (153 x 203cm)
Ideal for two adults or a guest bedroom. Queen is the most popular sized mattress on the market. It offers stacks of space for two people to sprawl out on while also being compacted enough to fit in tight spaces well.

5. King (183 x 203cm)
Spacious option for the whole family. If you get daily morning visits from your children or pets, you know you need a mattress that offers plenty of space. So, you can fit everyone in for cuddles comfortably. A king-size bed is a perfect choice, which provides tons of space for all your family.
Choosing The Appropriate Material For You
No one mattress is suited to every person, which is why there's such a variety to choose from. Choosing the right one comes down to your personal choice. The most common types of mattresses to choose from including: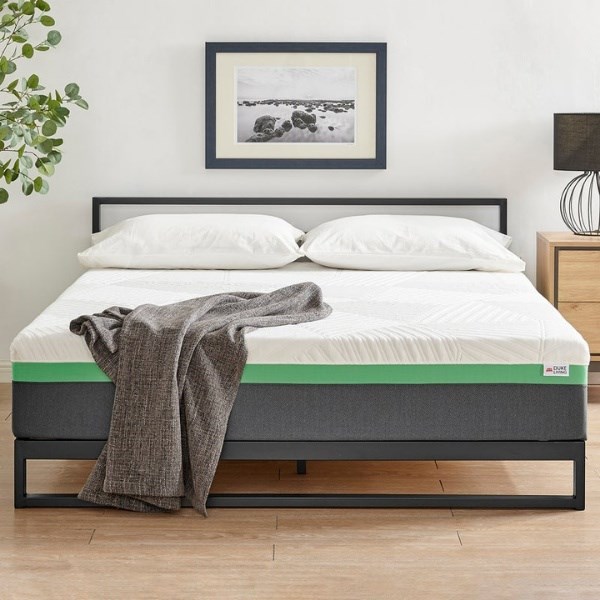 1. Pocket Spring Mattress
Affordable, durable and highly comfortable
The traditional pocket spring is a fantastic mattress choice. Made with thousands of individual coils, the pocket-spring provides excellent air circulation and compressive support. It's perfect if you get hot at night. Plus, with their plush top, they provide incredible comfort.
Minimise movement and sound
If you toss and turn at night, you'll love this mattress. Because the springs are spaced out into individual zones, they react perfectly to all types of sleepers. The pocket-spring moves with you to help you get a quality night's rest.
2. Hybrid Mattress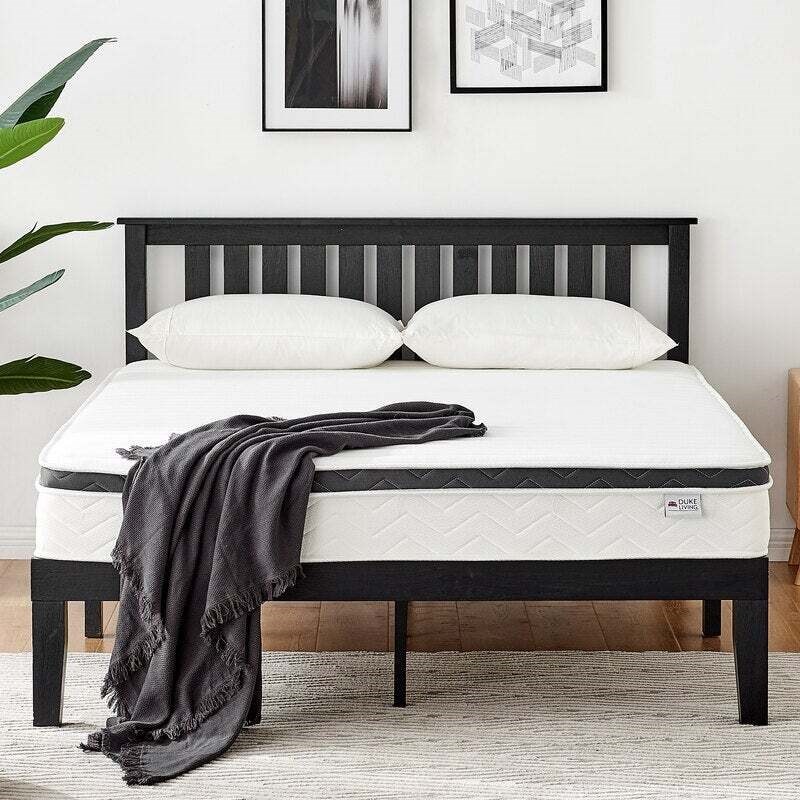 Perfect two in one
As the name suggests, the hybrid bed is a mix between two types of mattresses. The durable coils from spring beds and the plush top from memory foam mattresses. They're a fantastic, versatile bed.
Quality investment
Like the pocket spring, the coils in the hybrid mattress make it breathable and able to circulate air better. The springs are also designed to be very supportive, no matter how you sleep. Although it's one of the more expensive mattresses, it offers proper neck and back support. It's a quality long-term investment that can help you get some quality Zs.
3. Memory Foam Mattress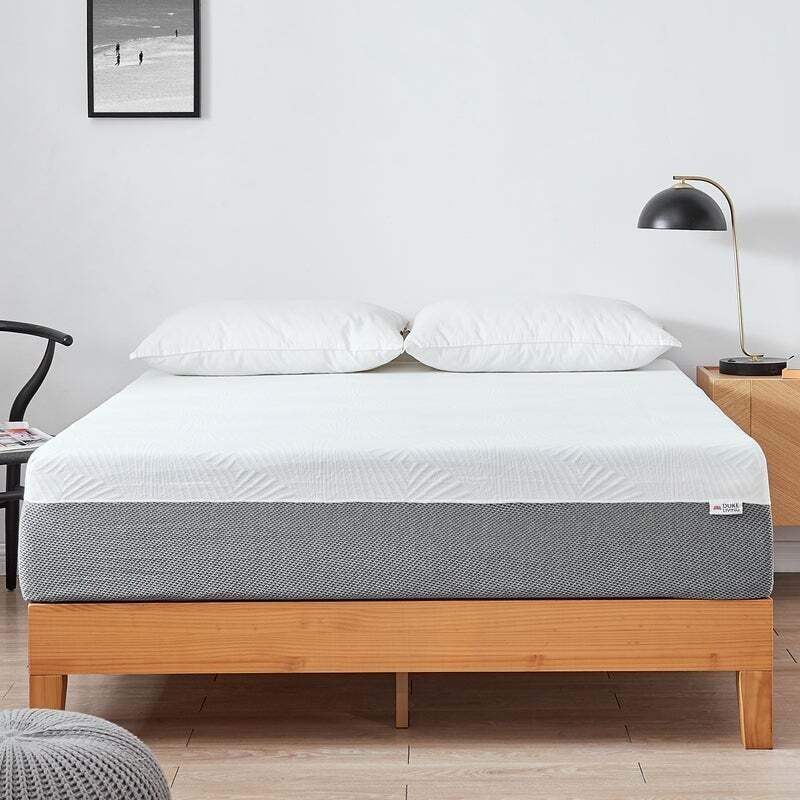 Extremely comfortable
The memory foam mattress is incredible for comfort. With no springs, the lightweight bed will make you feel like you're sleeping on a cloud. The memory foam mattress, made from polymer, a material created for NASA, has a soft feel that slowly compresses with pressure.
Pressure relief
The perfect mattress for couples or anyone who hates squeaking beds. Because the bed is made without springs, it doesn't creak...ever! Its padding relieves pressure in your back and neck for excellent support. Although it can trap heat, memory foam cuts down on motion transfer and absorbs movement, allowing you to move around the bed without waking your partner.
Choosing the firmness
When you think of a mattress, you think of a plush, extremely comfortable bed. You may think you don't need to worry about this step because you simply want the softest bed possible. But a plush mattress could be the wrong choice for your sleeping patterns.
Mattresses have different firmness levels designed to contour different sleeping types, whether that be side sleepers, back or front. Beds come in firm, medium-firm and soft or plush firmness levels, and they're designed this way to offer different types of support.
1. Soft
Side sleeper?
You'll need a soft mattress that will naturally contour to your body's curves for proper support. A plush bed makes room for your hips and joints without making you feel like they're being crushed. It offers that 'sink in', sleeping on a cloud feeling.
Incredibly soft
Made from plush foam layers, the soft mattress has the most give to cradle your body and adapt to its shape. It can also loosen the pressure in your joints.
2. Medium Firm
Back or combination sleeper?
A Med-firm mattress is the most reversible bed, perfect for people who toss and turn or sleep on their backs. It offers a balance between comfortability, support and firmness by moulding to your body seamlessly.
Comfortable and supportive
Med-firm mattresses have a plush upper layer for comfort and are perfect for those who like the gentle cradling of a soft mattress with some added support. If you share a bed, the medium mattress is an excellent choice because they work for every position.
3. Firm
Sleep on your stomach?
You'll need a more supportive mattress that prevents neck and back pain common when sleeping on your stomach.
A firm mattress is a perfect choice that will keep your spine aligned.
It's designed with a rigid core and has very supportive layers that prevent you from sinking into the mattress.
Are Firmness & Support The Same Thing?
There's a common misconception that when we're talking about firmness in a mattress, that means support, but that's not the case. They're entirely different things. Support is the feeling you get when you're completely comfortable. In contrast, firmness refers to the solidness of the mattress. Both are crucial to consider differently when choosing a mattress.
The Perfect Mattress For An Individual
There's nothing quite like sleeping by yourself. The added space, the complete silence, the control you have, it's truly an enjoyable experience that's only enhanced with a quality mattress. So, whether you're a new renter looking for an affordable bed or a single parent searching for a mattress perfect for you and all your kids, there are a few questions you'll need to consider.
How do you want the mattress to feel?
Different types of mattress materials offer unique feels to each user. This is where your new knowledge about the firmness and the type of mattresses available will come in handy. The great thing is that you get to decide on whatever features suit your sleeping style and needs because it's just you primarily sleeping in the bed.
Consider the type of mattress you like; if that's comfortable, a pocket-spring bed is a fantastic choice. If you really want that plush feeling but need a firm bed, consider a mattress topper for added comfort.
Do you have any allergies?
If you don't consider your allergies when buying a mattress, you could end completely regretting your purchase simply because of the material it's made out of. Not only can grass, dust and pollen flare up your allergies but so can the allergens that build in mattresses which can irate your pathways.
Mattresses can also contain chemical components as well as built-up mould and mildew. That's why it's crucial you buy the right mattress. The last thing you want is to be awake all night because your allergies are flaring up. The best bed for anyone suffering is to get a natural one. These carry fewer chemical components and can reduce the build-up of dirt, mould and mildew.
You should avoid spring/innerspring mattresses. These are the worst type of mattresses for anyone with allergies. Because they're made with springs, there's lots of free space that attracts dust mites, dirt and dust.
Instead, opt for a memory foam or latex mattress. These are the best options for allergies ridden people. Foam or latex mattresses have a combat design free of coils, so there's less room for allergens.
Do you have back or neck pain?
If your spine feels sore and strained or you commonly suffer from back pain, you'll need to consider a supportive mattress. No one wants to wake up in the morning feeling worse than they did the night before.
The right mattress for back and neck pain is a memory foam mattress. These are designed to offer incredible support. It's also critical to avoid a soft bed and instead opt for a medium-firm one. They offer proper back support and promote a healthy spinal position. Plus, they reduce aches.
Hot or cold sleeper?
Your body's temperature can affect how you sleep, and your mattress can be a factor here. Different mattresses can either make you feel hot or cold, depending on how much air circulation they have. Spring, innerspring or hybrid mattresses are a perfect choice if you sleep hot. They offer excellent air circulation.
The more compressed mattresses, such as memory foam or latex retain heat. So, if you get cold at night, they'll help you keep cosy all night long. It can also offer relief if you sweat at night.
The Perfect Mattress For Couples
Buying a mattress for yourself is easy, but it gets more complicated when you're considering someone else. It's essential to think about both you and your partner's sleeping habits to ensure you get a good quality night's rest. No one person sleeps the same, and your mattress should reflect that, even if you sleep with someone else.
Does their movement wake you?
There's nothing more frustrating than being woken from a deep sleep because your partner moved or had to get up. But this can easily be avoided with the right type of mattress -a memory foam one.
Memory foam mattresses reduce noise and don't creak, ever! They absorb movement, meaning you can change positions or even get up, and it shouldn't disturb your partner.
Do you have pets or children?
Considering this is crucial for couples. If you have animals or children that like to climb into your bed regularly, you'll want to consider the size of your mattress for purchasing. Commonly, most couples go for a queen-sized mattress but forget to consider their morning cuddle buddies. A king or even king plus mattress is a fantastic choice that offers stacks of space for all your children and pets.
The Perfect Mattress For Children and Teens
Whether your toddler has outgrown their cot or your child is now becoming a teen, finding the right one for your child that will last and fit them well into the future is crucial. Kids grow fast; the last thing you want is to buy a good quality mattress only for them to outgrow it in a few years.
How Old Are They? (Are They Going To Grow More)
Children are constantly growing, and sometimes quickly too. Their age should be a crucial consideration in choosing the right size mattress.
Buying Their First Bed (Toddlers & Pre-teens):
When your toddler has outgrown their coat, it's time for a proper bed. One that will thoroughly support and comfort them while they grow. You want to get the most out of any mattress you buy, and that includes your child's growth spurts. Starting with a single or king single mattress is the best option for them. They'll have a lot of room to spread out comfortably, and it will withstand their growth for years to come.
Buying For A Teen:
When your child enters their teen years, they can have massive growth spurts and need more space than what a single bed can offer. A double bed or even a queen size bed is an excellent option for them.
Double and Queen mattresses offer plenty of space and room for growth.
If there's not lots of space in your teenager's bedroom, then opt for a double bed. They're just as plush and supportive as a queen's, just smaller in size.
You may also want to consider a mattress protector for their bed. Kids are messy, and teens are prone to snacking and drinking in bed, so this way, they can do whatever they want without damaging the high-quality mattress you bought. It also means they last longer too.
The Perfect Mattress For A Guest Bedroom
Picking a mattress for your guest room is trickier than buying one for yourself. Because you have no idea how all your guests sleep or what feel they prefer.
Consider how long they'll be staying & how frequently
How many times a year do you expect or commonly have guests stay at your house? It doesn't have to be an exact number, but if you know you're going to have regular sleeping guests, you should have a durable mattress. One that's sturdy, practical and will withstand frequent use. You should also consider buying a mattress protector with a plush top, so they can sleep like guests in a hotel.
Balanced mattress
Because you'll be having lots of different people who all sleep uniquely in the bed, you'll need to find a mattress that balances heaps of features. A hybrid mattress is a fantastic all-around choice. It has the comfort of a memory foam mattress with the durability of the coils from a spring mattress. They cater to many body types, offer tons of support and divine levels of comfort.
You should pick a mattress with a med-firmness that supports a combination of sleeping types for a decent night's sleep.
Do You Need Mattress Accessories?
Your mattress can come with a variety of accessories, including toppers, protectors and electric blankets. All offer different features like extra warmth, comfort, support and saving-guarding your mattress. The ones you choose should make your bed a worthwhile investment.
Mattress Toppers
Not to be confused with mattress protectors, toppers add an extra level of plush comfort. They come in all sizes, including king-single and double, and they also come in various styles.
If you're looking for an affordable way to add comfort, a soft-bamboo topper is a fantastic option.
If you want proper support but like the air circulation you get from a pocket spring mattress, go for a memory foam topper. They help align your spine and can reduce built-up pressure in your neck, back or shoulder.
Mattress Protectors
These are fantastic, long-term investments that will help your mattress last the test of time. As the name suggests, mattress protectors safeguard your mattress from dirt, dust, mould, messes and stains. They reduce the need to clean your mattress and are easy to wash.
They come in every size and variety of materials so you can choose the right one for you. You can get waterproof ones if you're prone to spills or a microfiber one to repel dust and messes.
Electric Blankets
If you hate the cold and also the cost that comes with running a heater during winter, then you need an electric blanket. The adjustable heating blanket provides different levels of warmth to keep you cosy all night long.
They slip seamlessly in between your mattress and sheets or mattress topper/protector so you can be comfortable and warm.
The variety of mattresses are endless, but now you can confidently buy one knowing you've scored the best mattress for your needs.
The great news is MyDeal has incredible deals on a variety of high-quality mattresses. Shop online with us and save big with price drops, sales and discounts on a range of single, king-single, double, queen, king mattresses and much more. Discover our range today and save big with MyDeal.
FAQ's
Can you put your mattress on the floor?
Of course, you can put your mattress wherever you want. But there are problems placing it directly on the floor instead of a slatted platform, foundation or spring box.
Your floor attracts and accumulates a lot of dust, dirt, and bacteria, affecting your mattress and your health. It can also void the warranty that it comes with. It's best to elevate the bed from the floor for durability and cleanliness.
Is It An Investment You Should Spend More On?
The average person spends around a third of their life in bed making a mattress a worthy, long-term investment—worth every dollar you spend. Mattresses can be anywhere between $200-$1,500. Premium versions will cost even more than that, especially if you want it custom-made.
But you can get a luxurious mattress at an affordable price. Don't overpay for mattresses when you can get high-quality ones anywhere between $100-$500.
Can You Return It?
Mattresses-in-box delivered to your house are super convenient, but you don't get to test your mattress until it arrives. The good news is most sellers and companies offer money back guaratneees but check the terms and conditions before you buy if you're not sure.
Most beds also come with warranties too that vary in length. However, returning your mattress isn't the simplest thing to do. This is why it's essential to understand what to look for when you buy a bed, so you don't have to return it.