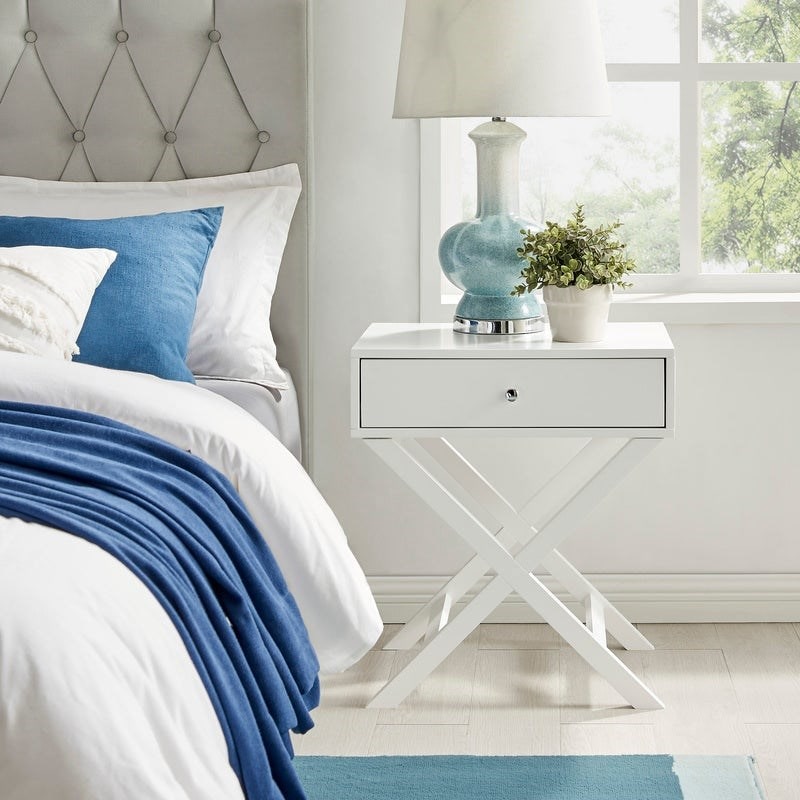 Bedside tables are a must-have furniture piece for your bedroom. They serve as a suitable storage place for all your essentials that can add to the appeal of your space.
But with such a variety of bedside tables available, it can be a nightmare trying to find the right fit for you.
Don't worry; we've got you covered with a comprehensive guide that takes the work out of deciding on new bedside tables. Loaded with tons of top tips and tricks, it's never been easier to find the ideal bedside stands suited to you.
Do You Need Bedside Tables?
Nightstands are the perfect bookends of a bed that offer more than just a stylish feature.
Do you constantly catch yourself dumping your favourite book on the floor before bed? Or perhaps you struggle to find the tv remote in the dark? Bedside tables offer a valuable space to hold all these things for easy access.
They're multiple-purpose furniture pieces ideal for stowing away all your nightly essentials; your lamp, book, medication, drink bottle, charging equipment, photos and even plants. The options are endless.
Available in various styles, colours and materials, nightstands are designed to meet everyone's needs. The type you choose depends on your requirements.
Do you need two bedside tables?
In bedrooms, it's common to see two nightstands on either side of the bed. However, how many you buy is entirely up to you.
Generally, you'd buy two if you're sharing the bed with a partner, so you both have easy access to your necessities. If you like order in your space or a symmetrical looking bedroom, two bedside tables will make the area look cleaner.
However, if you're tight on space or buying for a single's bedroom, you can opt for just one. You'll still be able to reach your favourite items without the added hassle of feeling cramped.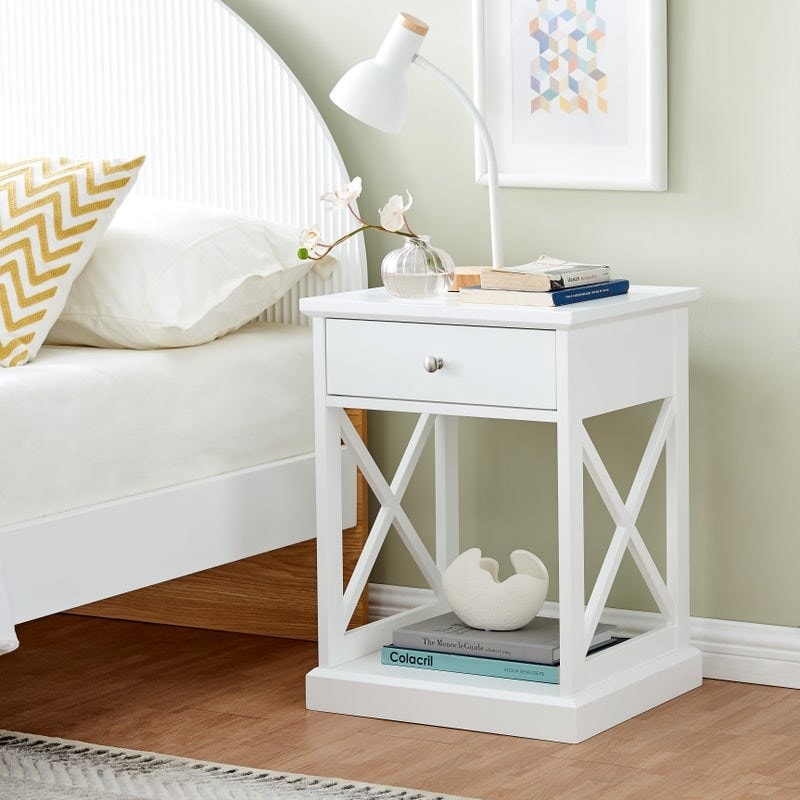 Types of bedside tables
Because nightstands are a popular furniture piece for bedrooms, they're available in multiple varieties. Each design will suit alternate styles and different individual preferences. The most common types of bedside tables include:
1. Cabinet
Tiny cabinets are one of the most common forms of bedside tables. These compressed cupboard types offer a ton of storage space and frequently come with a draw, shelf, or both for practical use.
Unlike nightstands, cabinets have more hidden room for your essentials and are perfect for clutter. They come in various sizes and a range of materials, including wood, metal, fabric, leather, mirror, or glass, to suit every bedroom style.
2. Nightstand/Drawer Table
Nightstands are the more basic form of bedside tables that come in smaller and lower sizes. Identified by their simple structure, they usually have a singular draw attached to their surface or none at all.
Nightstands are designed to fit in tight spaces or bedrooms with existing bold furniture and are ideal for those who only have a few nightly essentials, such as a lamp and photo frame. As another common bedside table choice, nightstands also come in various materials to blend with all bedroom types.


3. Wall-mounted

Floating bedside tables are the superior space-saving choice. Unlike a nightstand or cabinet, these tables won't damage your floors or carpet because they don't have legs. They also make it easier to clean the area underneath.
Wall-mounted tables have a contemporary look which can boost the feel of any room. They're ideal for tight spaces and usually come in durable wooden or concrete materials for particularity.
Bedside tables also come packed with different features, including in sets of two or with led lights.
Different Bedside Table Materials
Similarly to the types available, bedside tables are also made with different materials to suit alternative rooms and styles, including contemporary, modern, traditional or rustic. The most common materials available are wood, metal, glass, rattan, fabric, and leather.
Wooden bedside tables are a timeless choice. The natural material is practical, easy to clean and very durable. Its design will hold up under everyday wear and can last a long time. Making it a quality, long-term investment for your home.
The sophisticated medium has been around for years and never goes out of style. It looks desirable in any area and matches well with a range of styles. Wooden tables blend elegance, functionality and durability for a superior choice, available in various forms.
2. Rattan Bedside Tables
Rattan furniture is incredibly classy and alluring to the eye. It's a natural fibre made from palm trees and is used to create a versatile range of furniture pieces and items like bags, outdoor tables and, of course, bedside tables.
The popular material is lightweight for easy mobility and very low maintenance for practicality. It's also an affordable choice.
Although it's not as durable as wooden bedside tables, rattan nightstands can withstand spills and last a long time. The gorgeous medium also offers a stylish look that will stand out. It matches well with tons of styles and blends seamlessly with wooden furniture pieces, including your bed frame.
Mirrored furniture has an appearance unlike any other. The modern material is stunning to look at and can increase the style of any room. Made from glass treated with metallic substances, a mirrored bedside table reflects its surface for a clean, sleek appeal.
Although this table type is more sensitive than other materials, it's super stylish and durable with the proper care. Glass bedside tables come in cabinet and nightstand styles to match the needs of everyone and are a very luxurious choice.
4. Fabric Bedside Tables
Available in various shades and tones, upholstered bedside tables are appropriate for every style and come in various textures, colours, and weaves for versatility.
Unlike metal or wooden versions, these gorgeous nightstands add to the level of warmth and are soft to the touch.
5. Metal Bedside Tables
Metal-based furniture is durable, easy to clean and very useful. Its sleek design makes it compatible with almost any bedroom space in need of a slim feature piece.
Like wood, metal is a solid material that's built to last under continued use. It's a hygienic choice that's available in a comprehensive collection of sizes and designs for convenience.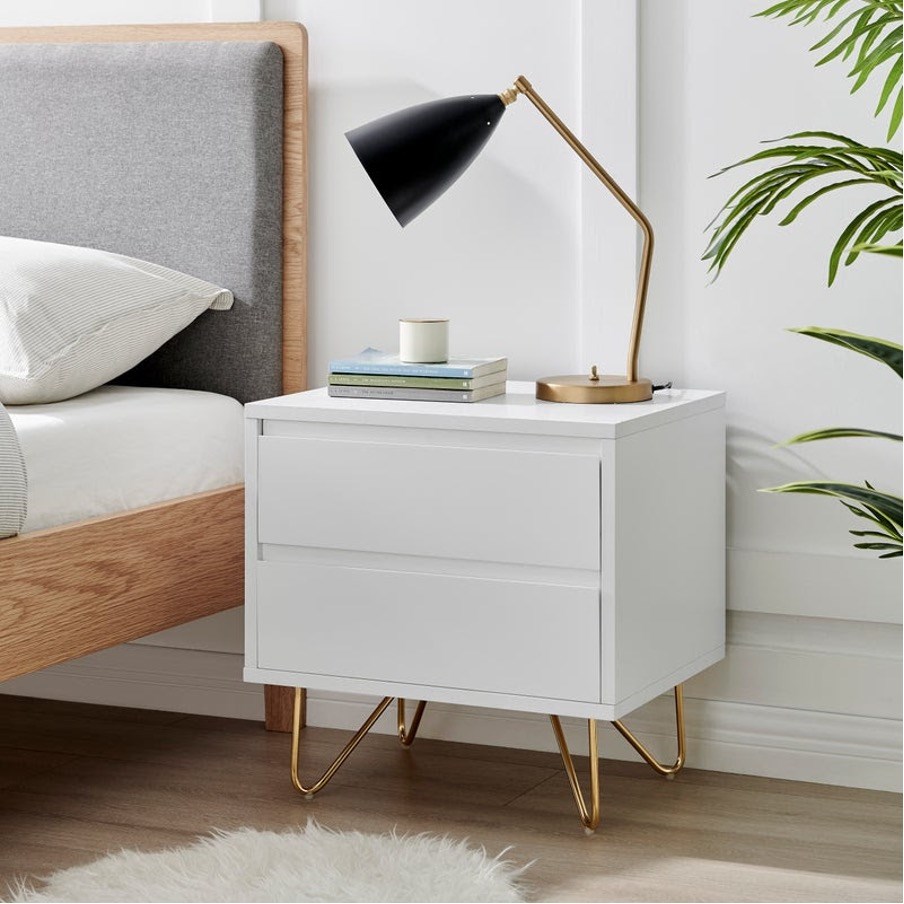 The Right Size For You
The standard height of a bedside table is generally between 60-70 cm. However, because they're so diverse, different manufacturers can offer alternate table sizes. The height of a bedside table is designed to match the common height of a bed, around 65cm.
When deciding on the right size, there are a few features to consider beforehand.
As a rule of thumb: bedside tables should be level with the height of your mattress for convenient and realistic use.
If your nightstand is too low or high for your bed, it can make it harder to reach the items on or in your bedside table.
Consider your space
It's frustrating buying a new bedside table that ends up not fitting in your space correctly. So before purchasing, measure your area - twice for an accurate reading. Then contemplate the available room. If your bedroom is tight on space, you'll want an appropriate size that will fit securely.
Contemplating the space available also allows you to think about convenience. Will you be able to access your bedside table easily in the room? Or will your stand prevent you from opening doors? The last thing you want is to buy bedside tables that make the room look cluttered and are impossible to move around. If you have a bed frame that has storage drawers beneath, it could become impossible to open them with a bedside table in the way. So, way up accessibility before deciding on the correct size.
Consider the surface and storage available
Bedside tables have alternative top spaces; which one you choose depends on what you require out of your bedside table.
If you only have a few fundamentals you wish to have close by while you sleep, you can choose a smaller bedside table with a thinner surface area.
However, if you have books, medication, merchandise, photos, remotes, or chargers you like to have quick access to, it's vital you consider a bedside table with a large surface or storage space like a drawer.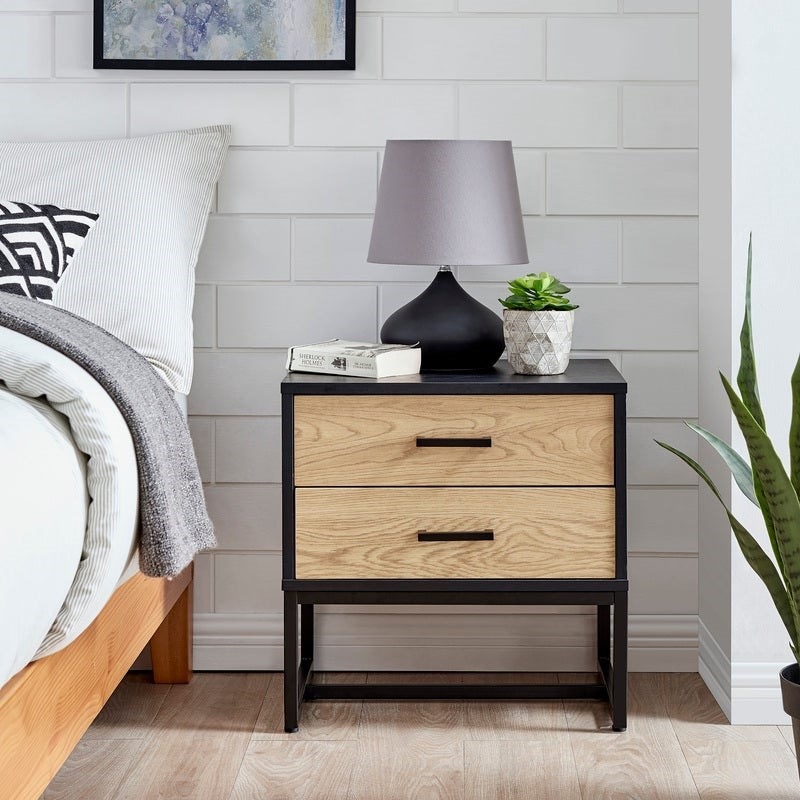 Do Bedside Tables Have To Match?
Bedside tables do not have to match each other; the choice is entirely up to you.
Generally, people looking for a set of two bedside tables will buy the same type for symmetry, but it's not essential. Like chairs at a dining table or bar, you can use different styles for a rustic look.
However, as a general rule of thumb for good styling, it's essential to have at least one common feature between the two bedside tables, like the same colour or size.
Bedside tables also don't have to match your bed frame. For a more personal feel, choose a bedside table material or colour that compliments the bed frame.
Consider The Room You're Buying For
Because bedside tables come in such a diverse range, it's imperative to consider the type of room you're buying them for, for sensible use.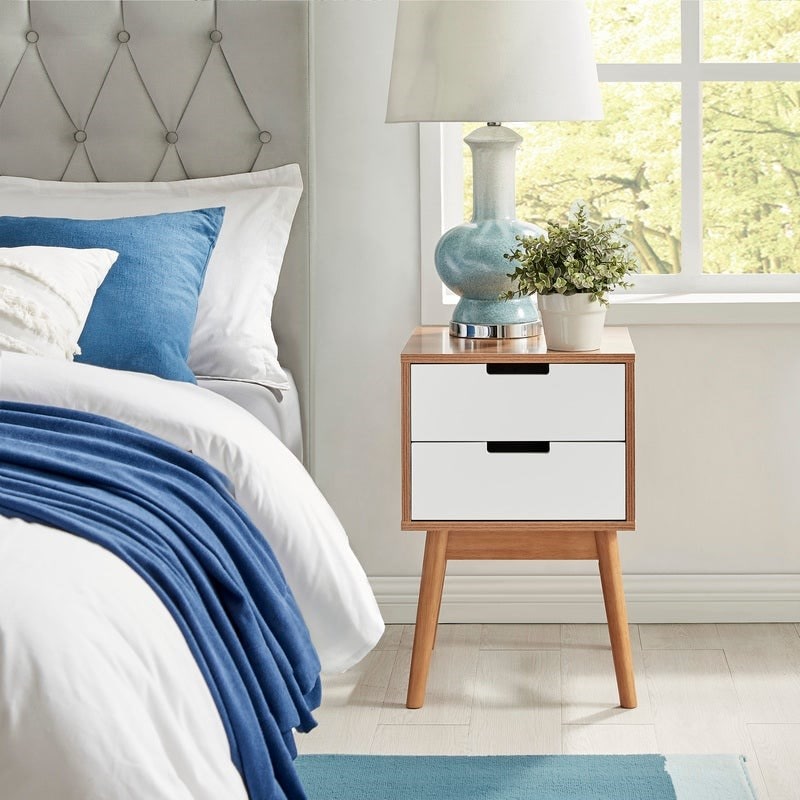 Best Bedside Tables For Your Bedroom
In your bedroom, bedside tables act as so much more than just stylish furniture pieces. They make tasks more straightforward, so you can relax deeper. Rather than having to get up multiple times to find a remote or charge your phone, they conveniently hold all your essentials right next to you. But for them to make your life easier, you need a bedside table that's practical, convenient and suits your living style.
Before buying, consider the following:
1. The best material for your lifestyle
For a bedroom that's used regularly, you'll want bedside tables that will withstand everyday wear and tear.
The best type of materials for long-term investment are wood or metal.
As the most durable substances available, wood and metal bedside tables are easy to maintain and can last well into the future. Plus, because they're so popular and come in various styles, they're affordable choices too.
For a frequently used bedroom, you should avoid a mirrored bedside table as they're delicate and can scratch easily under. You should also stay clear of fabric-based bedside tables. These are very hard to clean and can't be washed, so if you spill any liquid on them, they may never come out.
2. Consider what you need it to store
This is the most critical factor to consider. The last thing you want is to buy a new bedside table that doesn't fit everything you need it to. If you have many items you wish to store beside you for simple access, you should always opt for a storage-saving bedside stand.
The best bedside tables with storage capabilities are cabinets.
Storage is essential in a bedroom. Generally, these stands come with a large surface for your lamp, photos, or plants, as well as a few drawers or shelves for more items. Not only do cabinet bedside tables help declutter your space, but they also perfectly hide away those items for a cleaner-looking room.
3. Consider your partner
Do you have a companion you sleep with regularly? Then it's imperative that when you're looking for new nightstands, you consider their needs too. Ask them what they like to have close to them at night and in the morning. You don't have to buy the same type of nightstands, buy what's suitable for each of you individually and let them have a say about what kind they'd prefer. That way, you'll both get the most out of your bedside tables.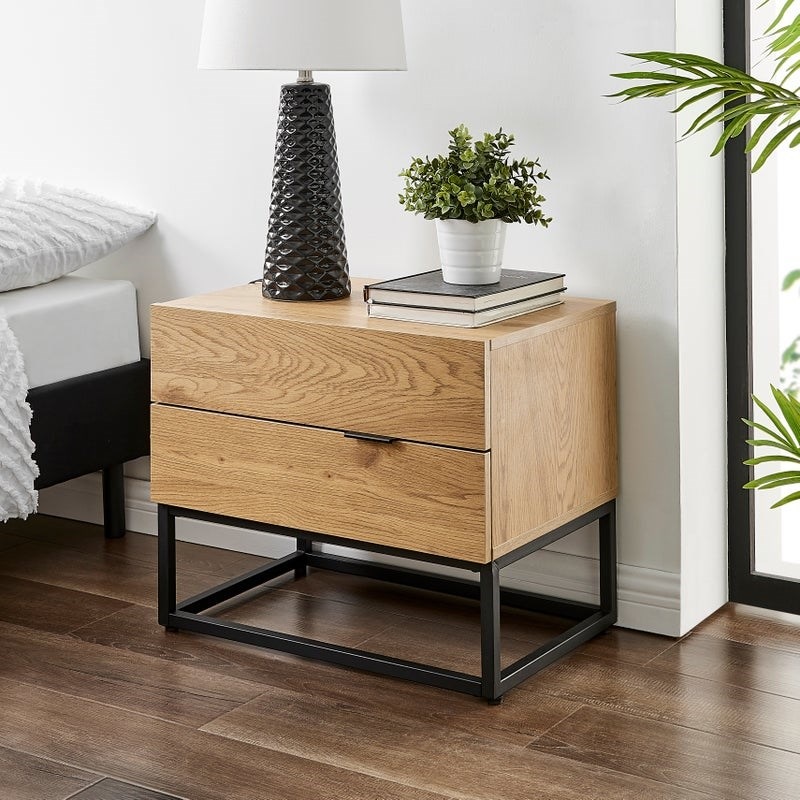 Best Bedside Tables For Guest Bedroom
Because a guest space is used differently than a typical bedroom, it requires alternate bedside tables. Unlike the main bedroom, this space is commonly used less, so you need to contemplate this when deciding what type you buy.
1. Best material
Guest spaces are the perfect opportunity to use more delicate, luxurious bedside tables that just aren't practical in your bedroom.
Choose from either a glass, rattan, or fabric bedside table ideal for guest spaces.
These stylish nightstands can elevate the room and add a sense of warmth that metal or wooden types cannot. Mirrored or fabric bedside tables can help the space feel more inviting and are very versatile.
2. Consider the space available
A guest area is normally one of the smallest rooms in the house. It needs a set of bedside tables that are practical but also fit comfortably in the space.
The best type for a guest bedroom is a nightstand or wall-mounted bedside table.
Unless you have a lot of space available, you should avoid cabinets in guest rooms as they can crowd the area and make mobility difficult. Whereas a nightstand creates more space and helps the room feel more inviting. Guests usually don't have much to store, so tables with drawers or shelves could be wasted. A wall-mounted bedside table is the best choice as it leaves the ground available for other items.
You should also consider whether you need two bedside tables. In a guest room, one stand is enough, especially if you're tight on space.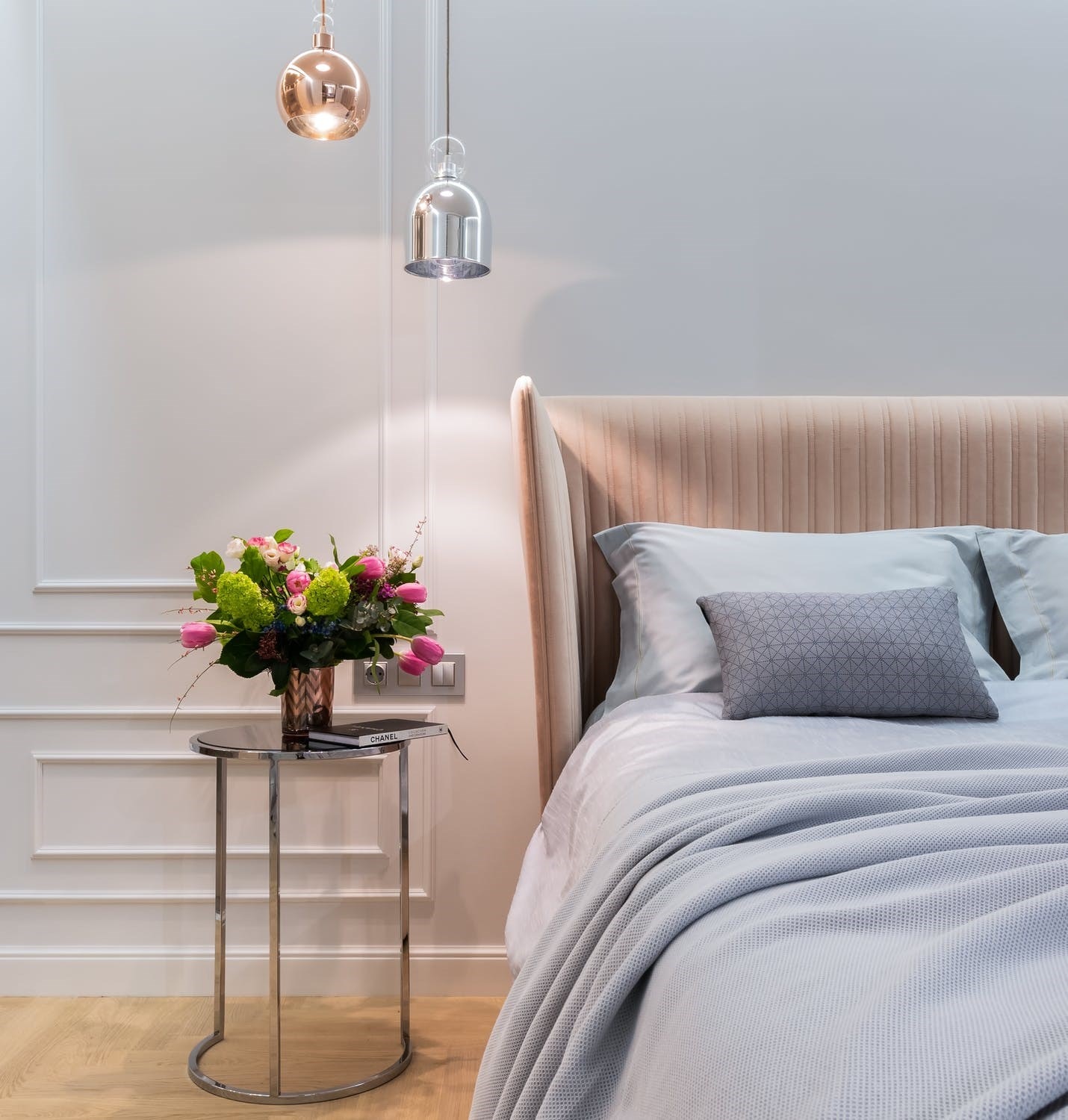 Best Bedside Tables For Children
Children spend a lot of time in their bedroom, so it's crucial the furniture included in their space is inviting and appealing to them. The furniture should also be durable, easy to clean and safe - make sure they don't have any sharp corners. Before you buy a bedside table for your children, consider the following for convenient use.
1. Storage space
Children are known for having tons of toys, games and items that help their imagination run wild. But with so many things, their room can quickly become a cluttered mess. That's why when you're considering the type of bedside table best for them, you should always buy one with tons of storage space. It will help free up room and provide them with quick access to their favourite gadgets while they're in bed.
For the ultimate storage space, contemplate a cabinet or wall-mounted nightstand for your children.
Available in various designs, these bedside tables offer a wide range of storage in the form of drawers or shelves. They also have a larger surface area than nightstands so your children can pile up all their books, night light and favourite photos.
2. Colour
Colour plays an integral role in the visual appeal of a room, but it can also impact one's mood and emotions. It's essential that a child's room is their favourite place to be, and shades can help determine this. They help inspire their creative side. Therefore, the colour of the bedside table matters a lot in the kid's room.
Choose their favourite colour or one that will complement well with the other shades in their room.
It's an excellent opportunity to let them have a say. That way, you know they'll really enjoy the bedside table well into the future.
3. Material
Children are prone to making accidental messes, and there's no way to avoid this. That's why the material of a children's bedside table matters greatly. You should want a type of nightstand that's easy to maintain, durable and practical.
The best material for a child's nightstand is wood or metal.
Not only are these resources the most hygienic choices for their growing bodies, but they're superiorly sturdy. These materials repel liquids and are easy to clean. They combine particularly with style for convenience and come in various shades, sizes and designs to match their unique style.
Price Of Bedside Tables
The average price of a bedside table can range between $40 to 150. But premium, custom version can cost upwards of $1,000. The exact price varies depending on the type, style, material, and size of the bedside table you've chosen.
At MyDeal, you can get exceptional bedside tables at extremely low prices. Whether you're after a wooden, wall-mounted, or small bedside table, MyDeal has affordable options available HERE for as little as $30.
Now that you have a better understanding of what features to look for. You can go out and buy the right bedside tables tailored to your needs.
Don't forget, MyDeal has a vast range of bedside tables available HERE that are suitable for everyone. Offered at affordable prices, you'll absolutely love, discover the online range today and save big - we'll deliver the items directly to your door for your convenience.
FAQS
What should a bedside table have?
Although it's entirely up to you, bedside tables should have a few essential things, including a large surface area, some sort of storage space, and an appealing look. Ideally, your bedside table should be convenient and practical for simple use.
Are bedside tables necessary?
If you don't have anything you want quick access to, or you're tight on space, you don't have to buy bedside tables. However, there are many benefits of having one. They not only add an appealing feature to your bedroom, but they help declutter your room and are a convenient place to store your essentials.