Are you looking to give your dining room a fresh new look? Well, we've got just the secret ingredient to elevate your space: rugs! These versatile floor coverings can transform your dining area into a cosy, inviting haven that impresses your guests.
Now, you might be wondering, "Should I consider adding a rug under my dining table?" The answer is a resounding yes! Rugs not only add a touch of personality and charm to your dining space but also offer practical benefits like protecting your floors and defining the area.
However, finding the perfect rug for your dining table can be a bit of a challenge. That's why we've put together this comprehensive guide to help you navigate the world of rug selection and find the ideal match for your dining room.
How to Choose a Dining Room Rug?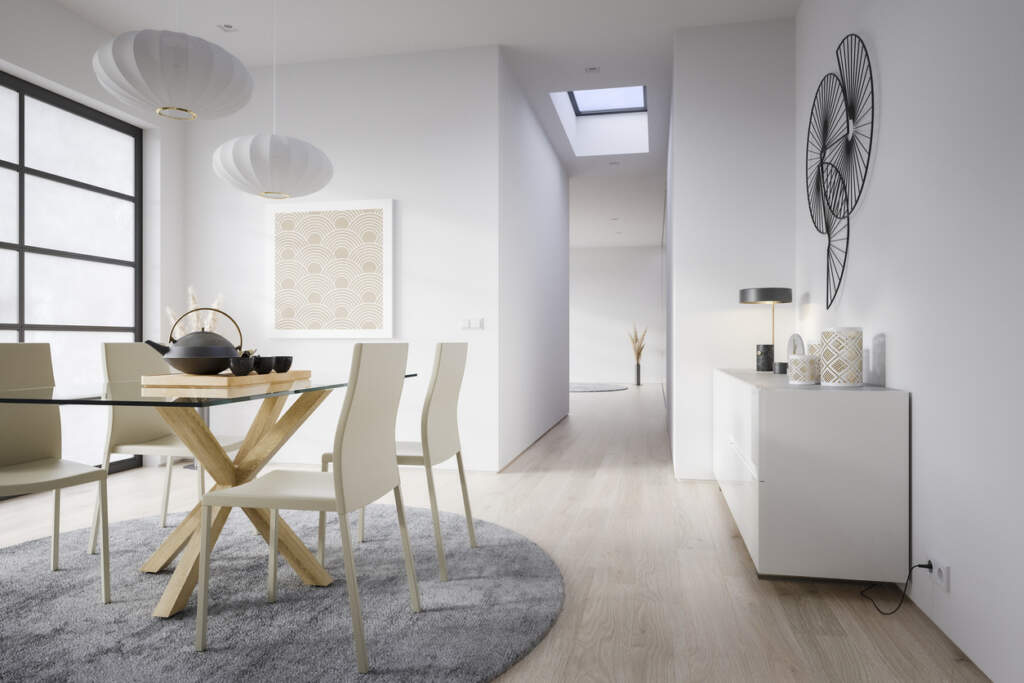 When it comes to selecting a rug for your dining room, there are a few key considerations to keep in mind. These factors will help you make an informed decision and find the perfect rug that enhances both the aesthetics and functionality of your space. Here's what you need to consider:
Rug Size for Dining Table
The size of your rug is crucial for creating a balanced and visually appealing dining area. Measure your dining table and chairs to determine the appropriate rug dimensions. Ideally, the rug should extend beyond the table edges, allowing enough room for chairs to remain on the rug even when pulled out. This ensures a cohesive and comfortable dining experience.
If you want an exact number as to how big should a rug under a dining table be, we recommend that your rug should be roughly 50-60cm bigger than the table.
Material and Durability
Consider the material of the rug and its suitability for a dining room setting. Look for materials that are durable and easy to clean, as spills and crumbs are inevitable in this space. Natural fibres like wool, jute and sisal are excellent choices as they are resilient, mostly stain-resistant and easy to clean.
In fact, many interior designers tend to prefer jute and sisal rugs over wooden floors because of their earthy colour and sturdy build. So, if you're wondering if a jute rug is a good option for your dining room, we say go for it!
Additionally, think about the maintenance requirements of the rug and opt for materials that are practical for your lifestyle.
Outdoor rugs are also an excellent option if you're looking for something that is easy to maintain and will look good at the same time.
Picking the Right Rug For The Right Dining Table
Matching the shape of your rug with the dining table is crucial. It is good to experiment but sometimes these experiments just don't work. We speak with experience when we say, you should almost always place the same shape rug as the dining table. This means a rectangle table calls for a rectangular rug and the same goes for square and round rugs.

Two exceptions to this rule that might work are a square rug and round table, an oblong rug (or more like a rectangle rug with rounded edges) and a rectangle-shaped dining table.
Dining Area Rug Ideas
There are multiple ways you can style your rugs in the dining room. Whether you have an open plan, need a feature piece, want to know what colour's best or just need to define an area, we have a few ideas.
Styling an Open Space
One of the most important things to keep in mind when you have an open space, with your living and dining area being side-to-side, is to not match your rugs. If there isn't enough space to place two rugs in the area, we would suggest avoiding placing a rug under your dining table. This would make your dining area texturally different.
But if you have a lot of space to play with, experiment with colours or patterns. You can use two rugs with the same colours but different patterns. Alternatively, opt for complementary colours.
Colours and Patterns
The colour of the rug you choose can make or break the look of the area. Using rugs with heavy patterns and solid colours can help you define the area. For example, if you have a kitchen and dining area combined, then adding a traditional rug or one with geometric patterns can mark out the dining space.
Patterns are a great way to add some life to a minimalistic dining area. A patterned rug can immediately add some vibrancy to an otherwise simple-looking room.
The texture and colour of natural rugs like jute and sisal paired with coastal or rustic interiors are also an excellent combination.
Focal Point
If you want the rug to be a focal point in the room, then a bright colour would be the best option. It will stand out even more if the rest of the decor and furniture is neutral.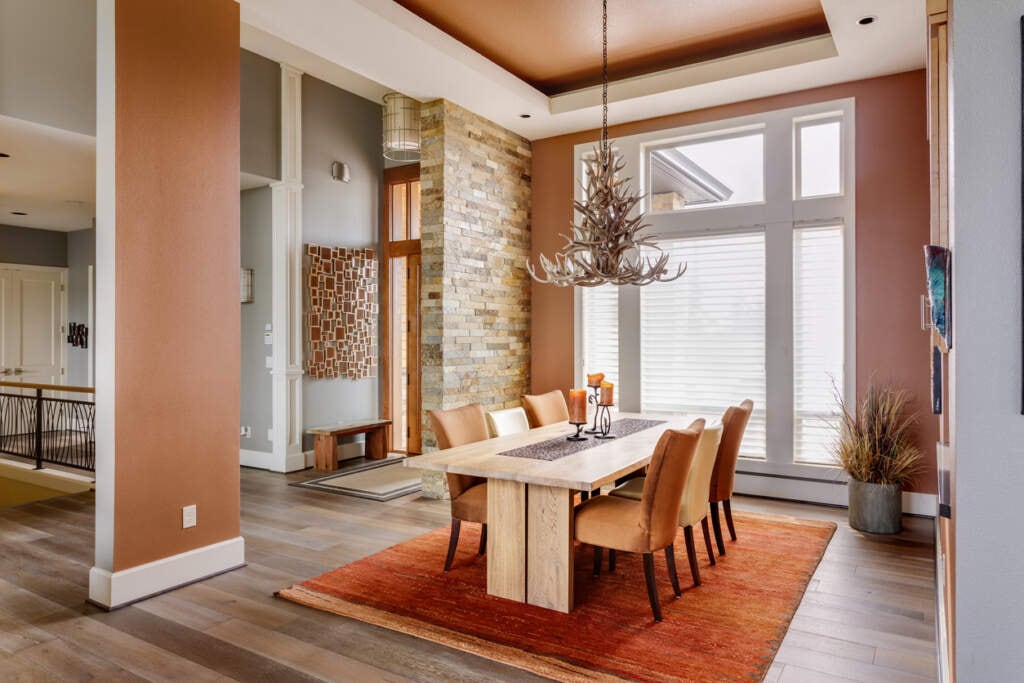 Don't hold yourself back when it comes to choosing the colour for your rug. Reds, forest green or even hot pink would be excellent colours for rugs under the dining table.
Choose The Best Rugs For Your Dining Area
Now that you know what to look for when choosing a rug for your dining area, it's time to make a purchase. Use our tips and suggestions to find the perfect rug. At the end of the day, which rug you choose depends on your preferences. So, if it looks good to you, that is all that matters!