Dining tables are more than just a spot to sit - they're also a place to gather, connect and make memories. Whether that be hosting dinner parties, having a family game night, or indulging in a Sunday morning breakfast. But to enjoy these experiences, one must first have the right dining table.
Finding a suitable dining table is not a task you can complete quickly. It's a significant decision you want to get right the first time, so it's crucial to work out precisely what you need before you begin. When choosing a dining table, there are some essential factors to consider, including size, shape, material, colour, and base. These elements will help you find a functional and stylish choice to enjoy well into the future.
Step One: Ensure the Dining Table Fits Your Space
Dining tables are crucial pieces of furniture that come in various sizes to fit all spaces. It's absolutely vital you find a size that will work in your dining room - to ensure it fits practically and isn't cramped.
To start, measure your available area, both width and length.
As a minimum, there must be at least two to three feet of free space between the table and any other object - but the more, the better. Once you've got your dining room measurements, minus at least 100cm from each side. Then you can work out what dining table size will fit best.
You should also consider the height of a dining table before you purchase for legroom and easy access. The best height for a dining table is between 71-76cm above the floor.
Tip: Do you have a tight dining room? You could buy an extendable table so you can still entertain while not compromising on space.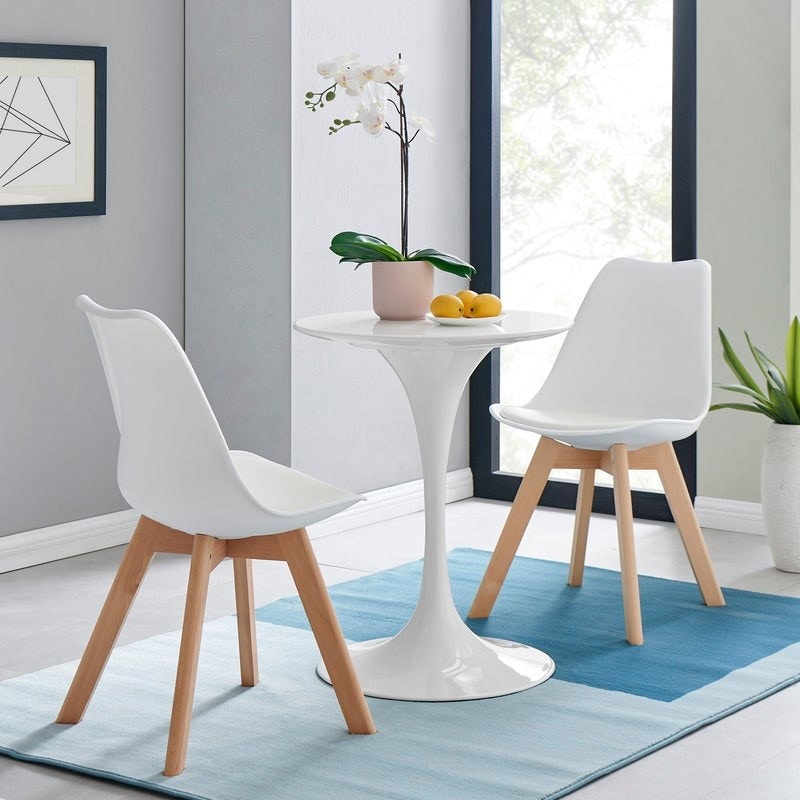 Step Two: Finding A Suitable Dining Table Shape
Suitable for small spaces or if you have kids.
A rounded dining table is a versatile choice that can work in every type of dining room. Its circular design allows everyone to fit comfortably without feeling cramped. It also provides more free space than rectangular coffee tables and has no sharp edges or corners. Making it a safe option for families.
Round dining tables provide extra room for more chairs in case of additional guests and even come in extendable designs. However, if you have a rectangular-shaped dining room, you might want to avoid a round table as it's small and may impact the style of the area.
Suitable for large rooms or big families.
A rectangular dining table is the most common choice. It's a versatile option with a board, extended design that offers tons of space for guests and food.
Rectangular dining tables work best in rectangular-shaped dining rooms - for functionality and easy mobility. However, be aware of its large size. It will take up a lot of space, especially once you've added chairs.
Oval Dining Tables
Suitable for hosting or rectangular-shaped dining rooms.
An oval dining table has similar attributes to a rectangular dining table. Although it has a different structure, the oval dining table also fits seamlessly in rectangular-shaped dining rooms and features lots of areas for guests.
Its curved design provides an intimate dining experience for easy conversation and movement. An oval dining table has a unique shape that's very visually appealing and won't take up a lot of room; however, it doesn't have a ton of surface area.
Square Dining Tables
Suitable for small spaces or families.
Like a rectangular dining table, a square-shaped version works best in a dining room of the same shape. For symmetry, easy access, and to provide a balanced look.
A square dining table is the perfect choice for small families but can come in extended versions to seat more people. Its small, rounded design allows for a more intimate dining experience - perfect to host guests while saving on space.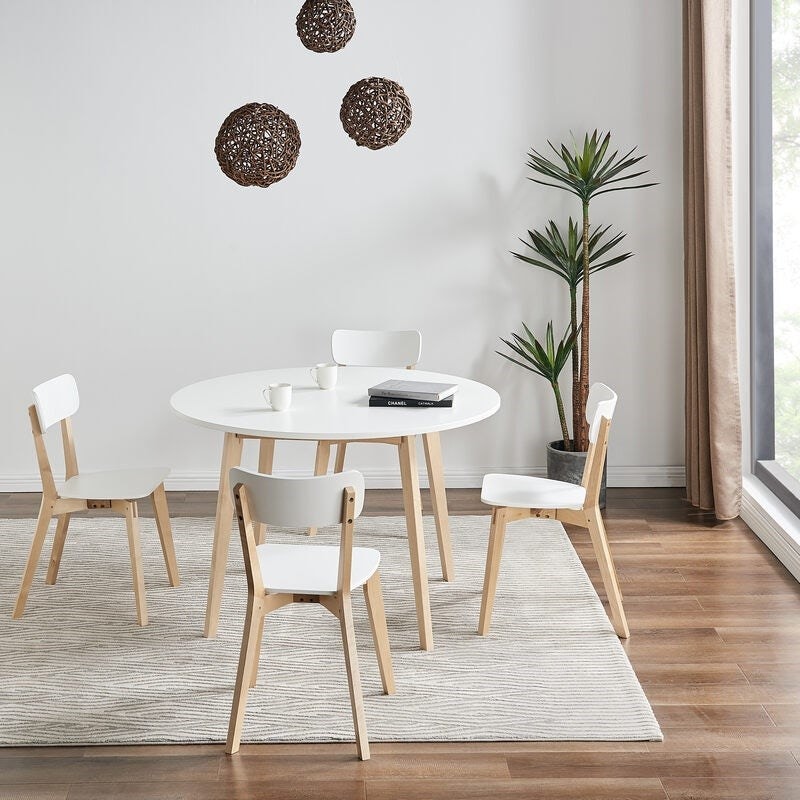 Step Three: The Best Dining Table Material for Functionality
Dining tables have different table tops that come in various materials to suit your lifestyle. These include wood, metal, and glass.
If you're looking for a durable dining table, then wood is the choice for you. Known for their extreme strength and durability, wooden dining tables can withstand everyday wear and tear and, with the proper care, even last for years. Making them a quality long-term investment for your dining room.
Wooden dining tables are the most popular choice, which is why they're generally affordable. They're also a natural material that can add warmth and a charming style to your dining room.
Create the illusion of more space with a glass dining table. Glass is an elegant material that can work in various styled homes, including modern and contemporary.
It has a transparent design that disputes light to brighten - ideal for making small dining rooms feel bigger. Although they can be a safety hazard, glass tables are also spill-resistant and very easy to clean.
Metal Dining Tables
Metal is the sturdiest material for dining tables. Unlike wood, it doesn't scratch as easily and is less expensive too. The solid material is perfect if you have kids or pets and can withstand long-term use.
With a smooth feel and design, metal dining tables are a versatile choice for all homes.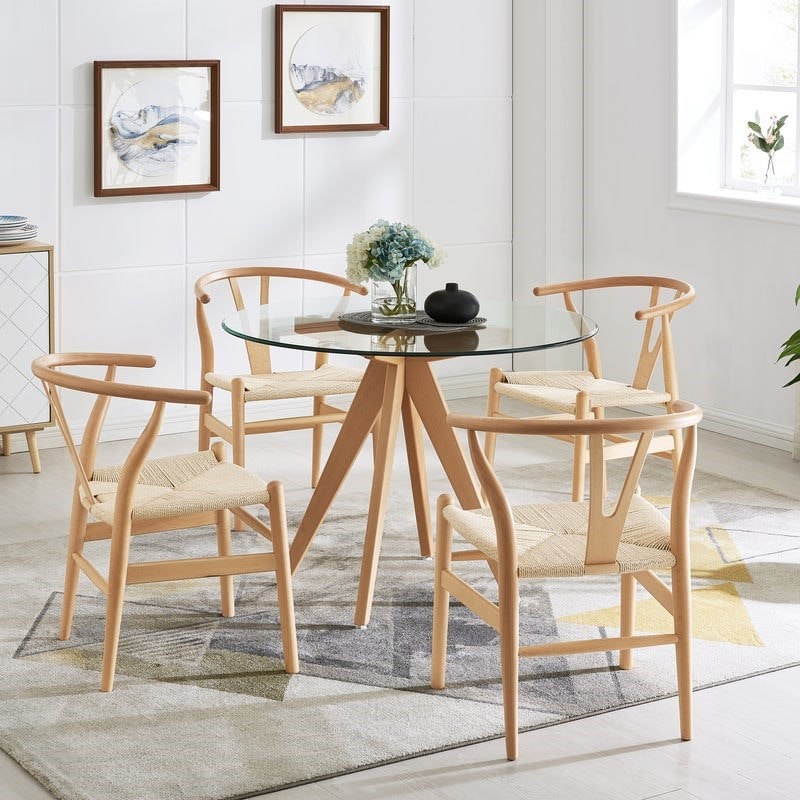 Step Four: A Colour to Match
The colour of your chosen dining table should never be overlooked. As a stapler item for your dining room, you want to make sure you pick a dining table with the right colour.
Tip: Your chosen medium should be versatile, so if you decide to change the look of your dining room, you can still use the same table.
When choosing your colour, don't go for what's popular right now as trends change over time. Instead, opt for a timeless and classy option like a basic hue of black or white.
Light coloured tables pair best with darker furniture items. They will make your dining room feel bigger and provide warmth. Whereas tables that feature a darker tabletop are better suited for larger dining rooms as they make the area appear more inviting and less empty.
Step Five: Consider the Base of the Dining Table

When buying a dining table, it's essential not to forget about the base, as it's actually one of the most crucial elements to consider. Not just for styling but because the base can affect the way you use your dining table. The three most common dining table bases are trestle, pedestal, and legs.
Trestle-based dining tables
These types of dining table bases have legs on either end and a centre column for support. They're ideal for fitting lots of people and have heaps of space on each side. However, bear in mind they don't have a ton of legroom on either end.
Pedestal-base dining tables
If you are tight on space but enjoy hosting, then a dining table with a pedestal base is the choice for you. Pedestal-base dining tables are an elegant option that is generally circular in shape for easy mobility. Identified by their central column base, the design provides a cosy dining experience and means your guests won't knock knees or legs while eating.
Simple leg-based dining tables
Recognised by their four simple legs, these dining tables are the most popular choice. They're classic, simple, and preferable for big spaces. Like trestle-based dining tables, they have a long length to seat many people; however, their feet can constrict the available legroom space, so it's best to only have one person at either end.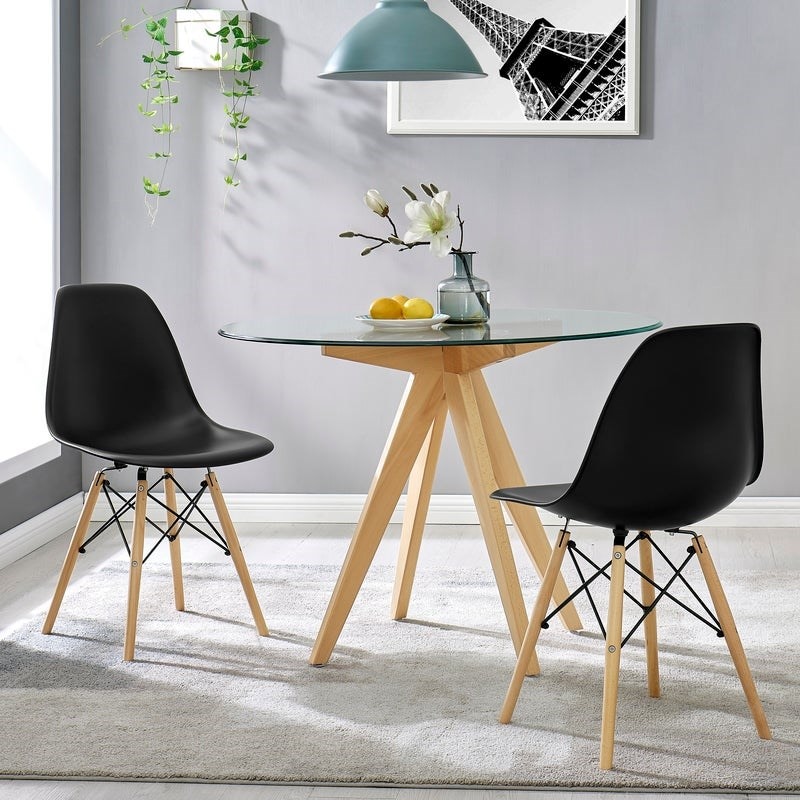 FAQs
Can You Use a Dining Table Outside?
Absolutely, having a dining table outside provides another great place to gather in warm weather. In fact, there's a massive range of dining tables specifically designed for outdoor use. MyDeal has a stylish range of outdoor dining settings available at extremely affordable prices.
Where to Buy Dining Tables
If you're looking to get incredible value on sophisticated dining tables - MyDeal is the place for you. We have a massive selection of affordable dining tables available in various designs, colours, and materials, including rectangular, wooden, glass, round and extendable. Check out our dining table range and enjoy a hassle-free shopping experience - we even offer free shipping on selected dining tables.