How To Select The Right Rug For Your Home?
Choosing the right rug for a space in your house can seem like an impossible task at first but, the truth is it's actually quite simple. Rugs are a great way to add an eye-catching element to your room or even to hide flooring issues.
When it comes to finding the perfect one to suit your place, the main elements to consider are size, shape, material and colour.
"The key is to find a rug that fits naturally in the area without overwhelming the space whilst complimenting the other features in your room, like your couch."
How To Choose The Right Style Rug?
The first step you want to take when choosing a rug is to consider the space you wish to fill and the layout of the room. Think about the size of rug you want and what shape would look best in that space.
For example, an elongated area would look best with a rectangle rug. However, a shorter room would look better with a square or round rug.
"You want your rug to frame your furniture and fit the area properly."
It's also critical to decide on a budget early. Depending on the size, rugs can be expensive. Generally, the larger the rug, the higher the price.
But rugs are a great way to add visual appeal to a room so it's worth spending the money.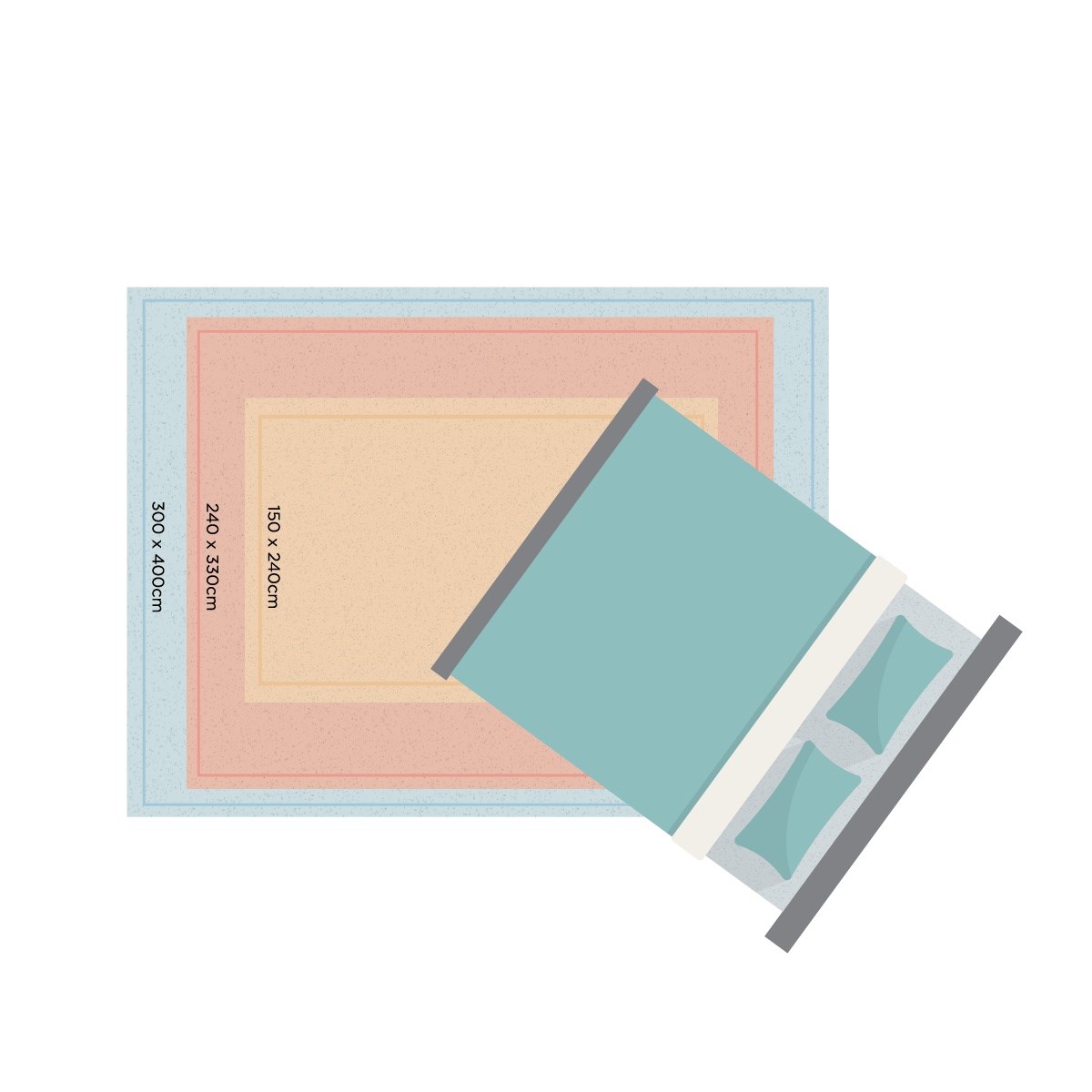 Buying A Rug for Your Bedroom
A bedroom is a place for relaxation and sleep, so it's crucial that the rug you select makes you feel calm and at ease. Review the following before purchasing:
What Size Should You Choose?
A rug should typically cover enough ground so when you step out of it, your legs stand upon the rug. This gives off the impression of a clean area that's well balanced.
Firstly, you'll want to consider whether or not you want your rug to simply cover the frame of your bed or if you'd prefer it to extend beyond your side tables and foot of the bed. The more space you want it to cover, the bigger the rug you'll require.
If your bed is positioned in the middle of the room, a large rug that expands far beyond your bed is the ideal choice. Remember though, you should avoid placing your rug halfway down your bed as it can seem out of place.
If your bed is positioned off to one side to maximise the space in the room, select a smaller rug that you can situate on the side you step out onto.
What Shape Should You Go For?

The great thing about buying a rug for your bedroom is almost all shapes look good in the space.
You can't go wrong with a square or rectangular rug, as they're easy to style But placing a rug in your bedroom does give you the opportunity to use a round or half-moon rug.
These types of rugs stand out against the regular shape of a bed and look desirable, however, you'll need to ensure that it's big enough to stretch across all sides of your bed and a little further for appearance.
If your bed is against the wall though, you can opt for a smaller rug off to one side.
What Material and Colour Works Best?
A bedroom is a low traffic area, meaning it's exposed to less wear and tear than your dining room or hallway would be. Because of this, it presents a chance to use a more delicate, softer rug such as a shaggy rug.
This thick-style rug is super cosy, soft and perfect for adding a statement look to your bedroom but If you'd prefer something easier to maintain, perhaps a cotton rug is the ideal choice.
These types of rugs are very affordable and easy to clean, furthermore, they add warmth to your bedroom. When it comes to colour, access the size of your room.
For small spaces, a lighter or brighter colour rug would not only stand out but also make the area look bigger than it may appear. On the other hand, if you have a larger room, a darker and greater size rug would fill empty space and create a comfortable and warm feel.
Reminder: It's also crucial to reflect on the level of sun exposure your rug will receive. The best rugs for solar resistance are acrylic and polyester.
Buying A Rug for Your Living Room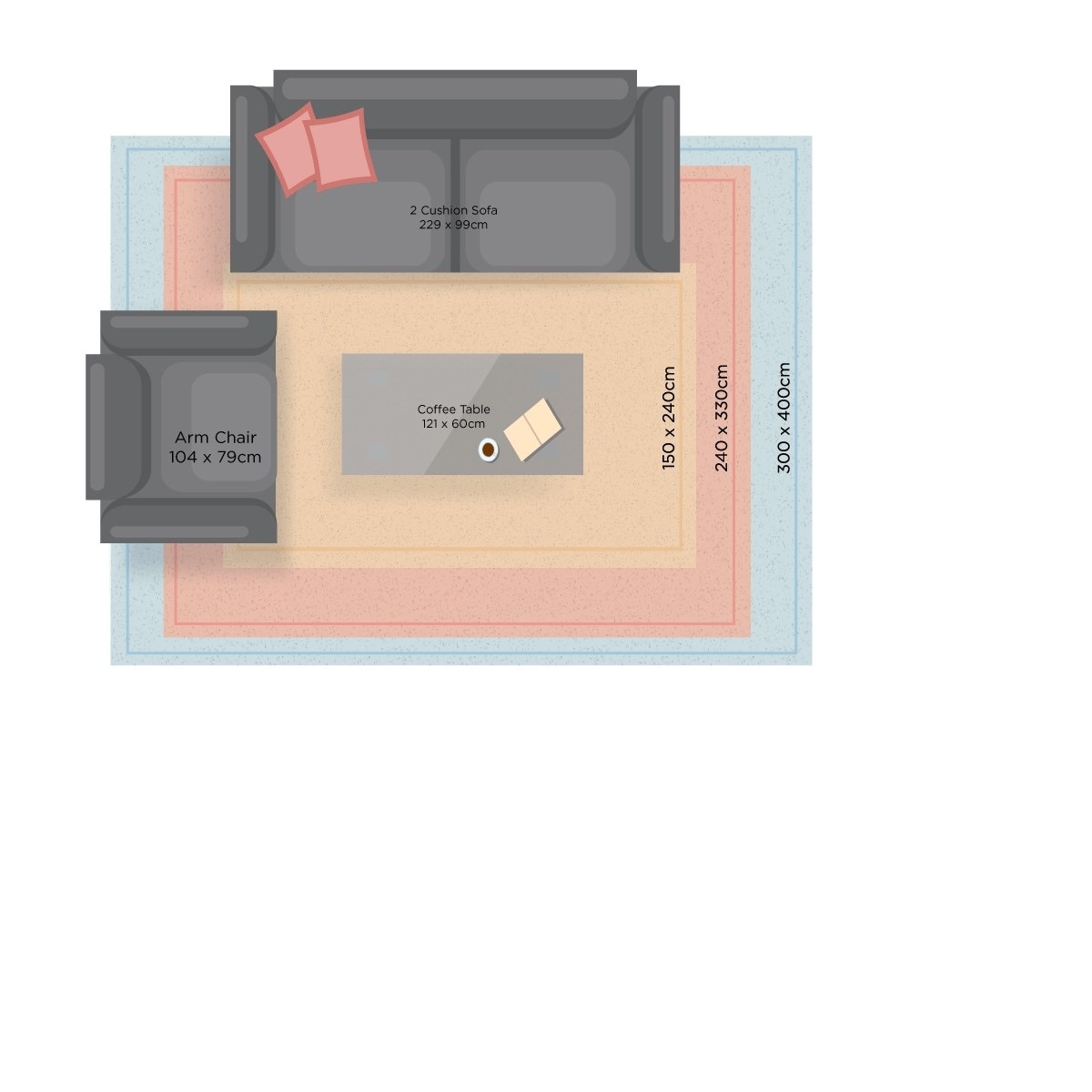 The best tip for choosing a rug size specifically for the living room is the bigger the better.
Yes, larger rugs are more expensive than smaller ones, but they fill space and can tie the room together. Whereas a smaller rug can feel odd and out of place in a large area, such as your living room.
Think about what items and furniture are going to be or are in your living room before you purchase a rug.
You either want it to cover the majority of the floor and items in your space including your walkway or have it border your couch. This just keeps things looking tidy and neat.
Should A Rug Go Under a Couch?
Your rug can go wherever you please but keep things consistent and in line.
It can be helpful to place all the furniture on the rug as it creates a more pleasing area but this doesn't mean a rug has to extend all the way around a couch.
If you don't have the floor space for a super large rug, you can opt for a smaller one that lines up with the feet of a couch.
What Shape Should You Choose?
There are a number of rug shape options for your living room but the ideal ones to access are:
Rectangular: Traditional and very popular, rectangular rugs are great for big spaces like you're living room. They're also superb for filling space and create a statement piece for your room.
Round rugs: Fabulous for compact areas like your living room, round rugs can give off the feeling of a superior space. They're inviting and soft, not to mention they also balance really well with rectangle shapes, like a couch. Additionally, since they're smaller in size than your typical rectangular or square rug, they're also a lot cheaper to buy.
Half-Round: Commonly known as slice rugs because of their half-moon shape, these rugs are perfect if you're trying to fill an empty area beneath couch chairs. Plus, this style of rug is usually durable and easy to maintain.
What Material and Colour Works Best in a Living Room?
Like your bedroom, generally, your living room is a low-traffic area. However, unlike your bedroom, it can be prone to more slips or messes. This is why it's very important to consider the material of a rug before buying it.
Natural rugs are normally the best and safest bet for your living room, such as sisal and jute. Sisal and Jute rugs are natural, neutral rugs that look like a weave. Although they're on the pricier side for rugs, they just so happen to be some of the most durable fabrics on the market. Plus, they're sustainable and environmentally friendly.
It's also vital to contemplate what colour your rug you should choose as it can either make or break the room. If you have a darker floor, whether that be carpet or hardwood flooring, consider a lighter rug that will match well rather than blend in as a dark coloured rug would. On the other hand, if you have a light-coloured floor, consider a darker coloured rug.
Buying A Rug for Your Dining Room
The bigger the better is what you want to consider when deciding on size.
The reason why you should opt for a larger rug is mainly because of the chairs in your dining room. If your rug is too small, the legs of the chairs can trip up the rug, causing fraying and breakage.
Your rug should extend far beyond your dining room table on all sides for maximum comfort and style.
A general rule of thumb, depending on the size of your living room, is that the rug needs to extend at least 20 cm beyond the dining table.
Remember to measure your table more than once for an accurate measurement.
What Style of Rug Should You Get for Your Dining Room?
You should choose a rug shape that best fits the room for consistency and order. Such as:
Rectangular: Traditional and very popular, rectangular rugs are great for big spaces like you're dining room. They're also superb for filling space and creating a statement piece for your room.
Square: If you don't have a large area in your dining room, a square rug is a great choice. Plus, they look great in square-shaped rooms.
Round: While it may seem like an odd choice, but a large round rug can be an awesome option for square rooms. They come in durable materials and catch your eye easily.
What Materials and Colours Work Best for Dining Rooms?
Since your dining room is a high-traffic area, you'll want to buy a rug that's sturdy, easy to clean and stain-resistant. In this case, you'll want to avoid materials like synthetics and instead opt for natural materials like cotton and wool.
If you have a dining room that is exposed to a lot of light, it's also beneficial to consider choosing a material that is sun absorbent and won't fade over time such as a flat weave. Selecting a colour for your rug is similar to how you'd pick a colour for your living room.
Contemplate the colours around your space, which ones already exist and match your rug to those colours.
Buying A Rug for Your Hallway
The most central part to note before buying a rug for your hallway is to measure properly.
To fit best in the space and looks pleasing to the eye, you want to place your rug in the hallway but not beyond it as it can look ridge and inappropriate.
Try leaving some free space on either side of the rug so it's not touching the walls and appears cleaner.
What Style Should You Choose?
Obviously, the best choice for a hallway rug is a runner rug.
If your hallway is feeling chilly on your feet or you have a small space that's feeling too ordinary, a runner rug can be a great refinement. Not only are they super trendy, but runner rugs are also used by lots of interior designers to spice up dull rooms. Additionally, they're literary designed for hallways, so you can't go wrong.
What Materials Works Best for Hallways?
Like your dining room, the rug you choose for your hallway should be very durable as this is another very high traffic area. Natural material rugs such as wool and cotton will be the best fit.
Wool is a great choice not only because it's sturdy, but it's also super soft to the skin. Cotton and wool are also easy to clean compared to other material rugs and generally, more affordable.
What Colour Rug Should You Buy?
The colour of your rug can make or break a room, as it sets the tone for the area, so it's vital to contemplate before you even think about buying. Neutral rugs like white, beige or ivory, draw attention to statement pieces in your room such as a couch or coffee table. Whereas a colourful rug can become the feature statement in your space.
If your room already has plenty of colours, then it's best to opt for a neutral rug that will allow those furniture pieces to pop. But if your room is full of greys and white, a colourful rug can make the room more visually appealing.
Some Tips to Remember:
If your space has a lot of items with colour, contemplate selecting a subtle shade that compliments the existing tones.
To avoid a clash of colours you can match the secondary shade in a rug with a sofa. The colour wheel can help here. As does remembering that cool tones tie well with warm tones such as yellow and blue.
Does A Rug Have to Match A Couch?
This part of buying a rug can be difficult and super frustrating to get right but it doesn't have to be. The rug you choose doesn't need to match your couch, in fact, it's more beneficial not to pair it with your couch as it can be displeasing to the eye.
If you're choosing a rug for space you're yet to fill, a key tip is to start by choosing your rug rather than your other big-ticket furniture pieces. A couch normally only has one colour in it, so it's easier to match a couch to a rug than the other way around, However, that doesn't make it impossible. For the best results, it's helpful to select a rug that compliments the couch or the pre-existing colours in the room. For example, if you have a white couch, you could pick a feature rug with a few colours mixed into it, such as emerald green and navy. Or opt for a bold standalone colour. Remember opposites attract.
If you have a bright couch, however, it's more desirable to choose a rug that's simpler and neutral such as grey, white, or black as they flow better together.
Also, consider what the colour will do to your space. Sure, a black rug seems great, but did you know it actually makes spaces more intimate. So, if you have a small space, it will actually end up making it look cramped.
The opposite is true for white as it makes space appear bigger. So, if your living room already appears vast, a white rug may only draw more attention to this rather than hiding it.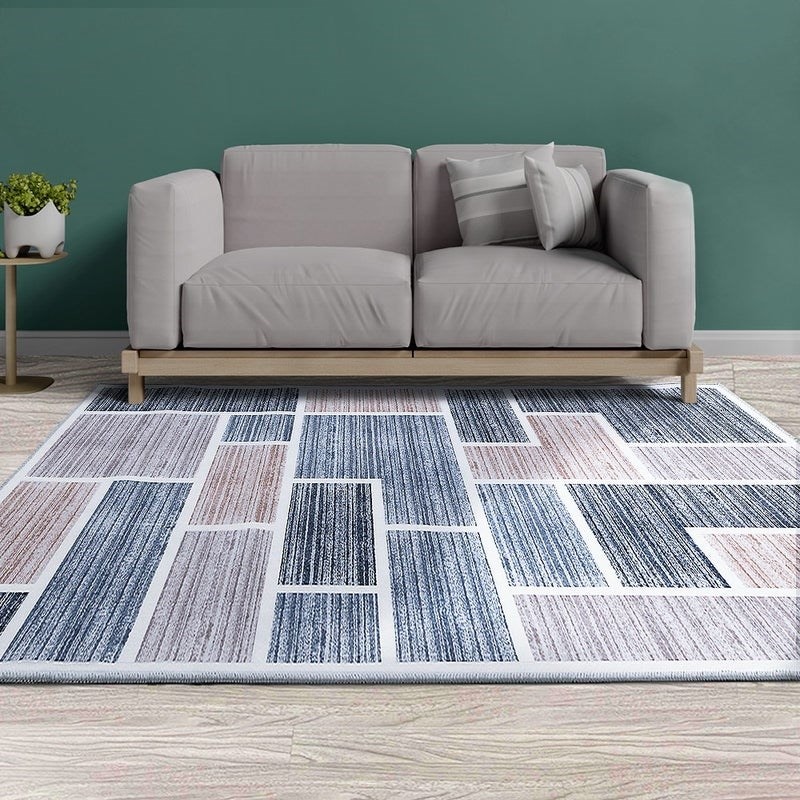 When it comes to rugs, the options are limitless but now that you have a better idea of what to look for, you can go out and buy one. The great news is, MyDeal offers a range of rugs to meet your unique needs including Shaggy rugs, wool, no-slip, rectangular, round, polyester and much, much more. Plus, MyDeal offers cheap, discounted prices storewide, so you be assured you're getting a rug for the best price out there.
At the end of the day go with your gut and pick the rug that you'll love and enjoy for years to come.
Popular Rug Sizes
Once you've decided on what type of rug you're after and correctly measured the space you wish your rug to go, you'll need to decide on the size of rug that will work with your measured dimensions.
The common sizes for rugs are:
Small: 121.92cm x 182.88cm OR 152.4cm x 243.84cm
Medium: 182.88cm x 274.32cm OR 243.84cm x 304.8cm
Large: 274.32cm x 365.75cm OR 304.8cm x 426.72cm
Extra Large: 365.76cm x 548.64cm OR 609.6cm x 609.6cm
Hallway runner: 60.96cm - 91.44cm (wide) x 182.88cm -426.72cm (Length)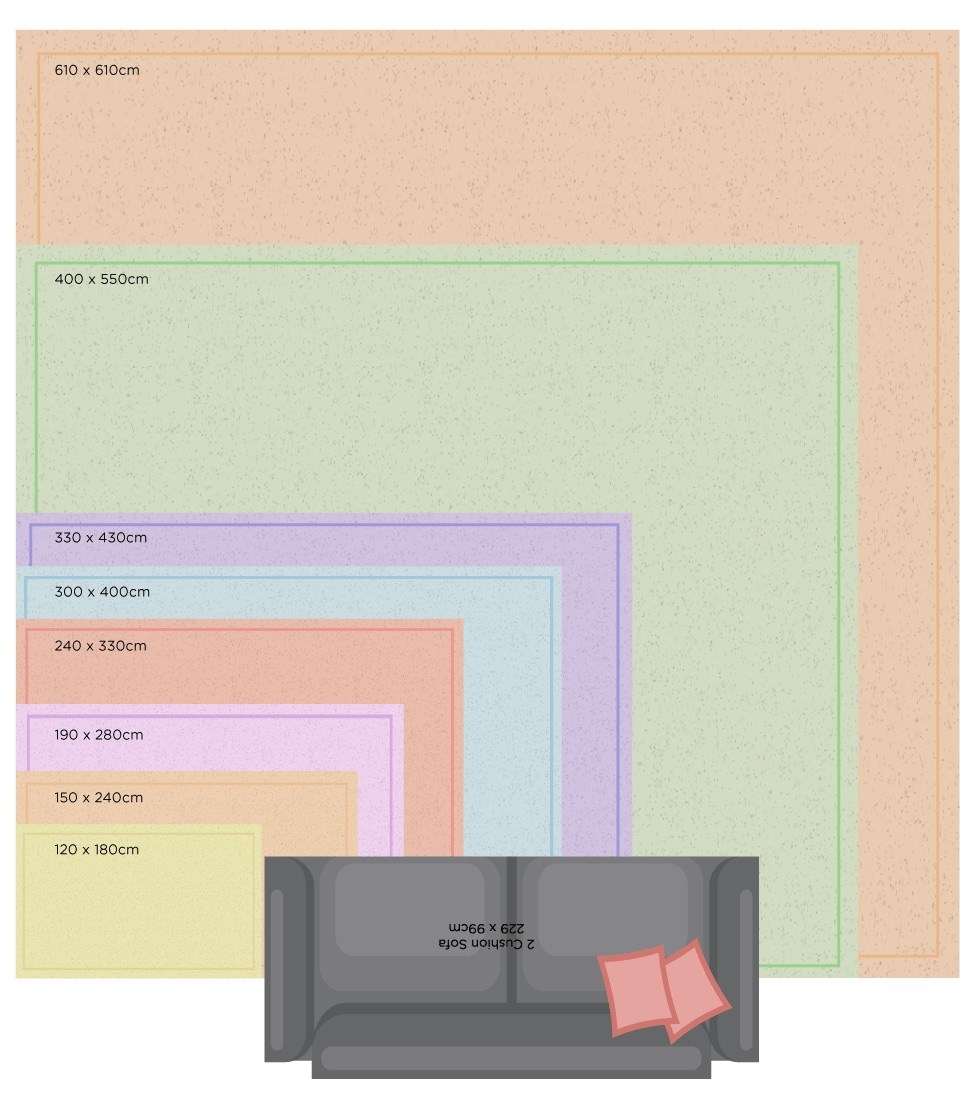 Frequently Asked Questions
What Type of Rug is Best For Carpet?
Sometimes a room just needs a bit more colour or a piece of furniture that will make the room look desirable and a rug is remarkable at doing this. Still, not all rugs will match well with the carpet but rather clash with it.
The best rugs to overlay with carpet are the thicker, shaggier kind that adds softness and warmth.
Are Rugs Machine Washable?
Most rugs are machine washable; it depends on the material they're made out of. Here is a list of some rugs that can be machine washed:
Cotton
Synthetic
Rubber
No-slip.
Please note: It's best to use COLD water if you're going to wash the rug and don't do it too often.
If you're unsure, the label attached to the rug commonly explains whether or not it can be washed.
Are Rugs a Tripping Hazard?
Yes, rugs can be a tripping hazard. If your rug isn't sitting flat or isn't placed right it has the potential to be a hazard. To reduce the risk, you should repair any fraying or damaged areas on the rug as soon they appear and ensure it's always flat on the ground. A no-slip rug can decrease the risk of a fall.
How Do You Clean Rugs?
Looking after your rug can ensure it lasts for a long time and is still pristine years later. Treat your rug similar to how you would treat your carpet:
Vacuum regularly.
Brush out pet hair.
If they're reversible, turn them over every year to ensure they're getting even used.
Shake out small rugs to remove excess dirt.