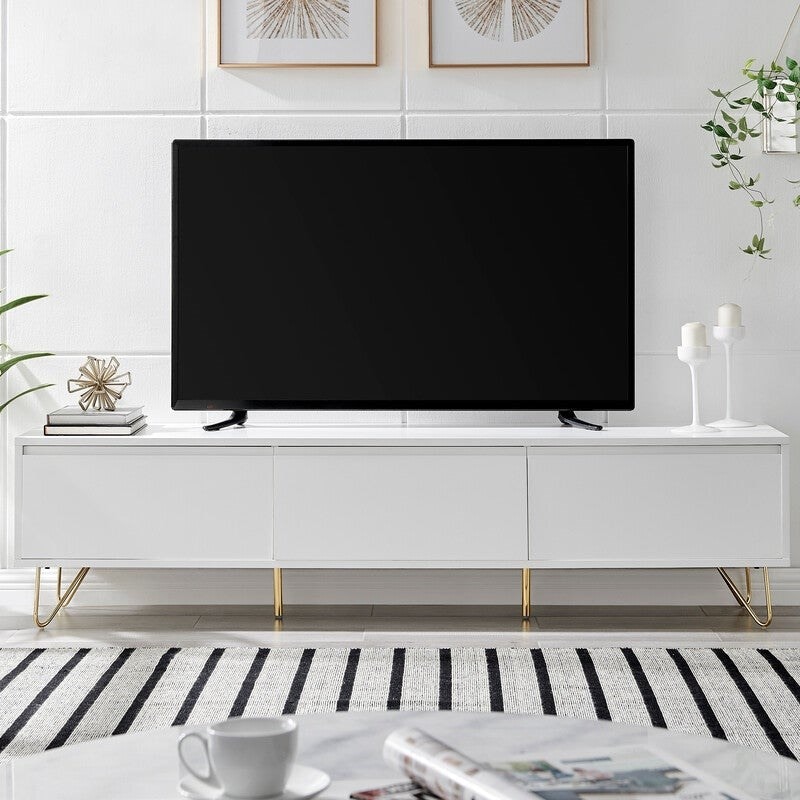 An entertainment unit is a multi-functional piece of furniture that's often neglected. But with the right cabinet, you can elevate the appeal of a room and make life a lot simpler.
The basic function of an entertainment unit is to keep your TV at the perfect angle, but it also serves as a way to de-clutter and organise space. As a popular furniture item, it comes in various sizes, styles, and colours - from basic stands to extravagant, shelf-filled cabinets. But with so many options, picking the suitable unit can be challenging.
Take the hassle out of finding a suitable TV unit for your home with our buying guide. Whether you're looking for a cabinet with drawers or one to suit your colour scheme, our simple step by step guide will make it easy to discover the right entertainment unit for you.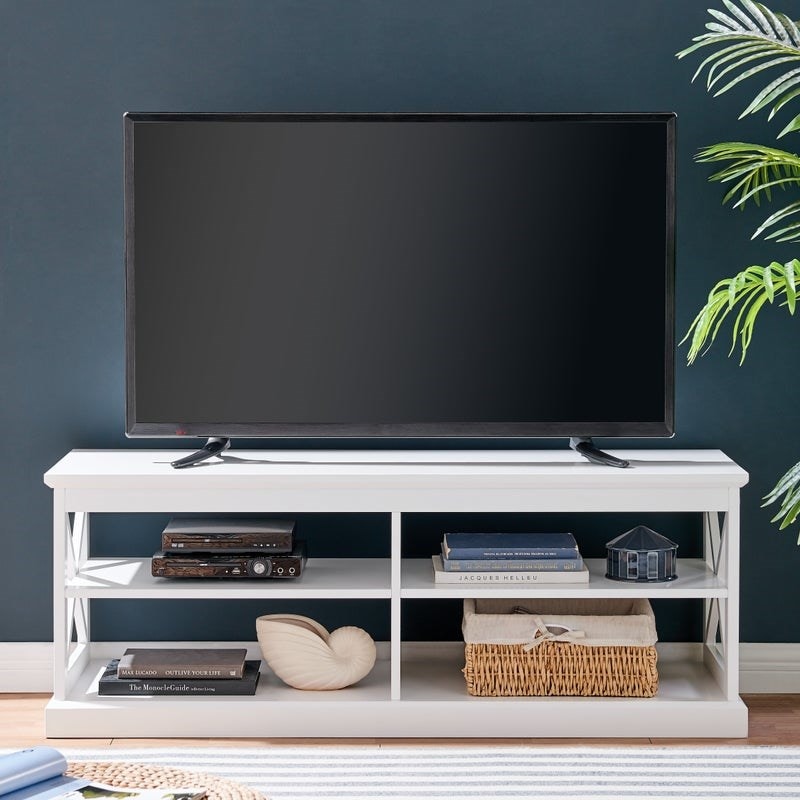 1. Start With Location
It's essential to do a bit of planning before you look at possible units. This begins with finding the desired location for the TV cabinet.
Entertainment units are generally used in the living room; however, they're diverse furniture pieces that can be situated in many other areas, including a family entertainment room, kids' playroom, or a bedroom.
Working out the placement first makes it easier to determine what size and function the entertainment unit should have.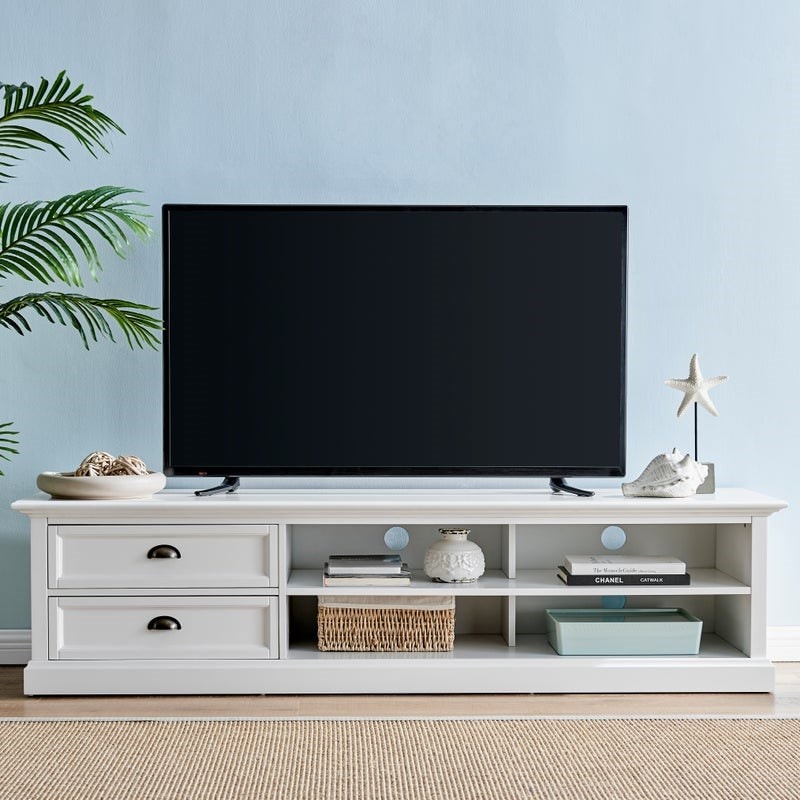 2. Finding the Right Entertainment Unit Size
Once you've worked out where your TV unit will be placed, you can move on to finding the correct size. TV cabinets come in various sizes to match different rooms.
To discover the right size, start by measuring the space you've chosen to place your entertainment unit – including width, length, and height. These measurements will allow you to work out which size unit will best fit the room.
If you plan to put a TV on top of your entertainment cabinet, it's crucial you also measure it. Choosing the wrong sized cabinet for your TV could create an unbalanced look that's also a safety hazard.
As a general guide, your chosen unit should be longer and deeper than your TV by at least 2 cm - for correct placement and styling.
Tip: To avoid straining your neck while watching TV, always keep the screen around eye level.
If you're unsure which entertainment unit will fit best with your TV - below is a table on recommended sizes.
| | |
| --- | --- |
| Width Of Entertainment Unit | Recommended TV Size (Diagonal) |
| 100-140 cm | 40 - 55 inches |
| 140-160 cm | 45 - 60 inches |
| 160-180 cm | 50 - 65 inches |
| 180-200 cm | 55 - 70 inches |
Depth also matters. You should be able to easily walk around your TV cabinet, so leave around 3 to 5 metres between your sofa and unit - even more, if you have a big TV in a family room.
Tip: As a general guide - If you have a room with a lot of furniture, it's best to use an entertainment unit that's simpler and smaller in size - so you don't overcrowd the space. However, if you want your chosen unit to be the centrepiece in a large room, opt for a bolder option.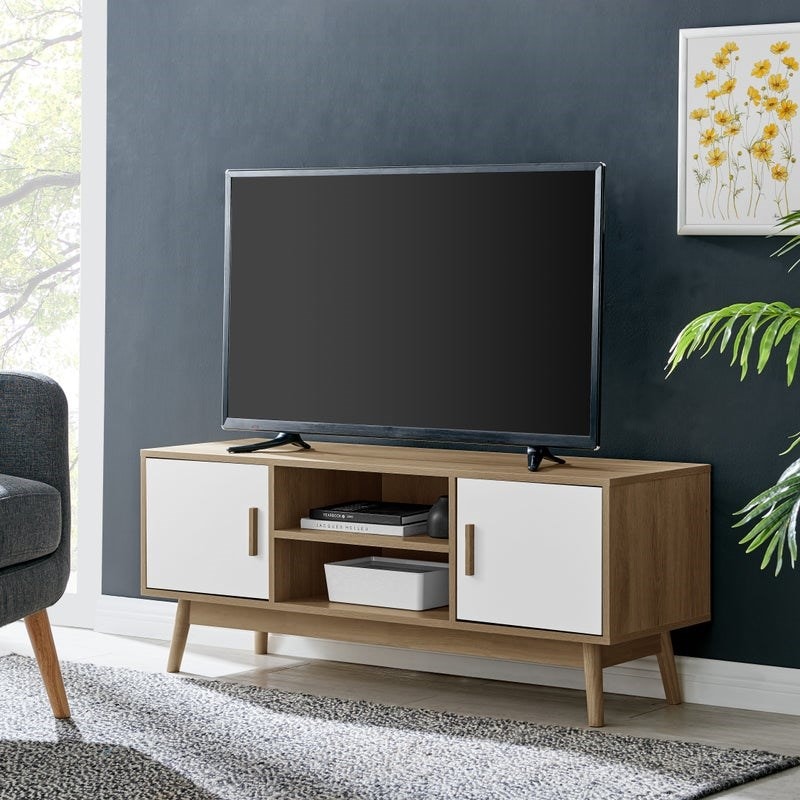 3. Keep Your TV Unit Functional
Determining what purpose your cabinet will serve can help you find the right style.
Ask yourself - What is your reason for buying an entertainment unit?
Is it to hold the games and toys in a kid's playroom? Then you'll need a unit with heaps of storage space.
If it's for your living room where you watch movies and play video games – you might be better off with a unit big enough to hide away those bulky consoles, sound speakers, and DVD players.
Or perhaps you have decorations you'd like to display – then an elongated unit with open shelves might be the choice for you.
Whatever your reasoning, always bear in mind functionality when browsing for a TV unit because, without it, you'll most likely never use the cabinet.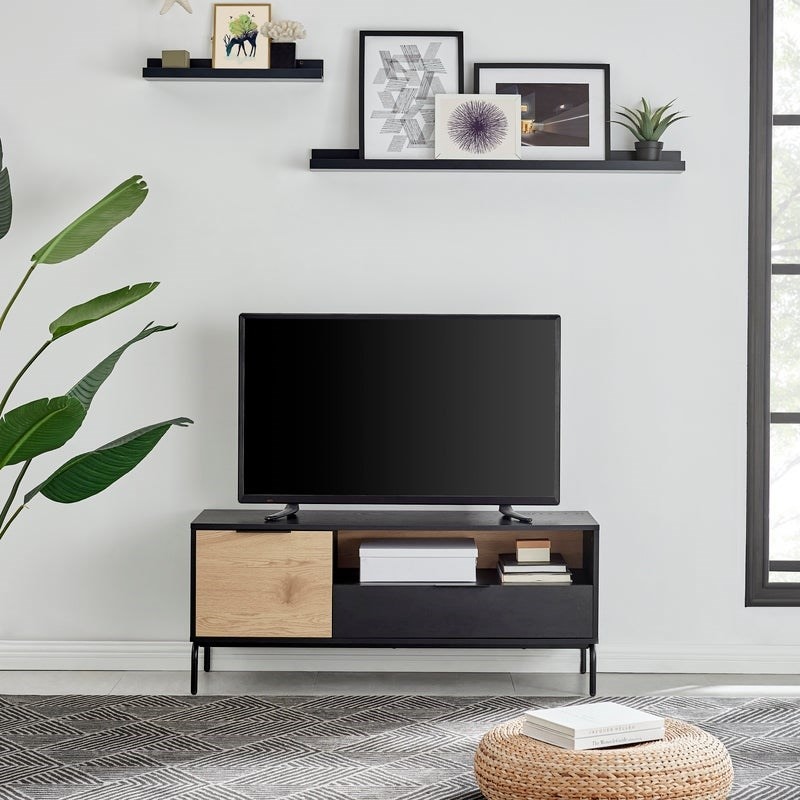 4. The Entertainment Unit Type Matters
Like all furniture pieces, TV cabinets come in a comprehensive range of styles, to ensure everyone can find the right type for their home. Below are the most common entertainment unit styles, including stands, centres, and wall-mounted units.
- Tv stands: Console TV stands are the most popular choice. As the name suggests, they're designed to hold a TV and generally feature a small cabinet space below for storage. TV stands are a practical, diverse choice. They have a simplistic design with a large surface area that can work in almost all areas.

- Entertainment wall centres: If you're on the market for a TV unit that offers tons of storage space and display shelves, then an entertainment centre is the choice for you. These units have floor to ceiling shelves with an open centre section for a TV. Although entertainment centres are generally pricier, they're also very sophisticated and packed with heaps of display space, ideal for large rooms.

- Wall-mounted units: Free up valuable space with a wall-mounted TV cabinet. These floating units provide better flow by opening up the available floor room - perfect for tight areas. Wall-mounted cabinets are functional units that come in a vast collection of designs and colours to suit all styles. They're also commonly made with shelves and drawers to conceal bulkier items like DVD players, remotes, or control boxes.
Tip: If you choose to buy a wall-mounted unit, ensure it's 140cm-170cm off the floor, to meet your eye level.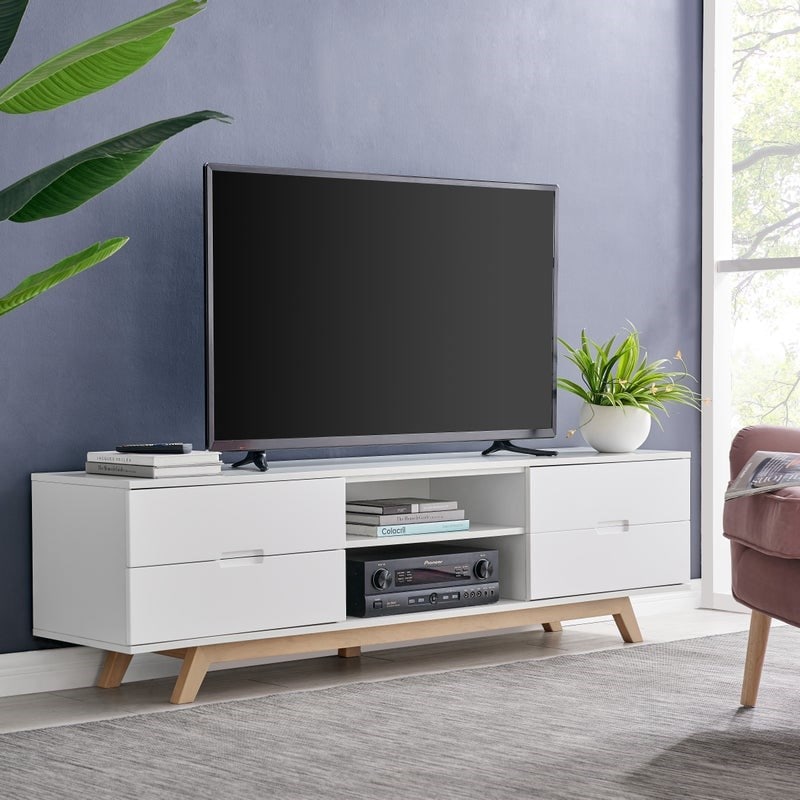 5. Finding an entertainment unit to suit your style
Coordination is key to choosing a suitable TV unit that will work in your space. You want your cabinet to complement your existing furniture, not clash, so always consider its colour and material before buying.
Tip: An entertainment unit is a long-term investment for your home so try not to go for what's currently trendy. Instead, opt for a timeless, classy cabinet that you can enjoy for years.
Some of the most timeless materials on the market are wood, metal and glass. These mediums are highly durable, stylish, easy to clean, and come in a collective range of shapes and colours, making them perfect for all types of homes.
Keep in mind, though, each material will affect your space differently.
Wood has a lot of texture and character and can act as an anchor to a room. In contrast, glass can create the illusion of more space with its reflective and see-through surface.
Tip: When deciding on a material for your TV unit, it's also essential to consider its legs or base. When you sit down on a sofa, the legs of a cabinet become very visible so, ensure its material will also work in your room.
Once you've worked out what medium will compliment your room best, you can decide on a colour. Like materials, each colour will add a different appeal to an area.
Light shades can brighten a room and make it feel bigger. Whereas darker hues can help large spaces feel less empty.
If you're struggling to find an appropriate colour to suit your home, look around the room you plan to place your unit for subtle colours that already exist. It could be the dark wood in a painting, the white of your sofa or the natural hue of your rug. By matching the colour to an existing subtle shade, you can tie the look of the room together.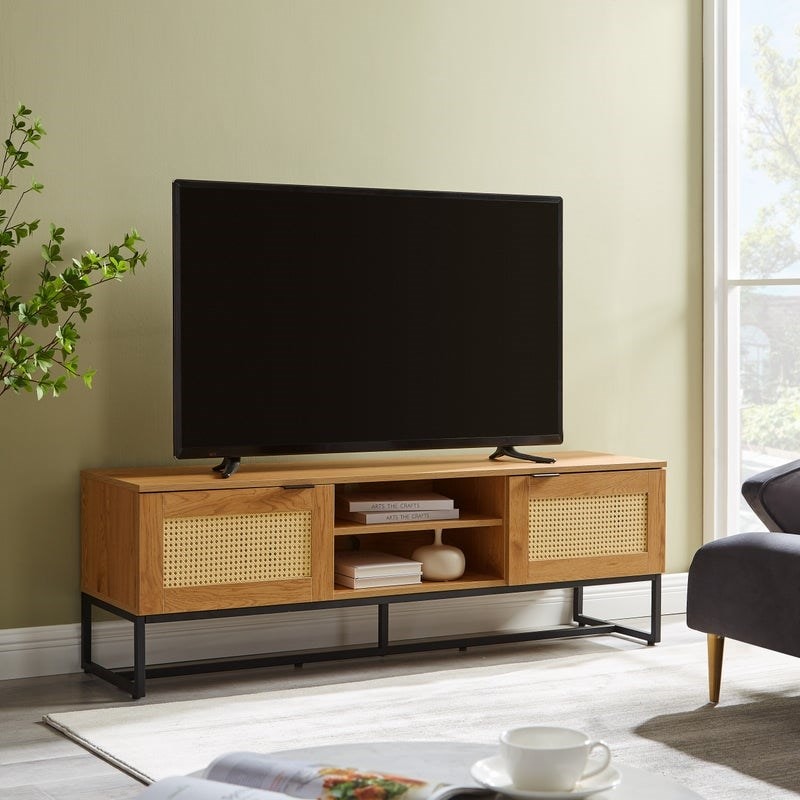 6. Ensure your entertainment unit reflects your personality
At the end of the day, if you don't love your chosen unit, you won't use it. So, above all else, always ensure the TV cabinet reflects your taste.
If you're into plants, you might prefer an entertainment unit with lots of surface space or shelves. However, if you like that beachy vibe - then maybe a rattan entertainment unit is the choice for you.
Whatever you choose, the point is always to remember your personal style - so you can enjoy the stunning piece for years to come.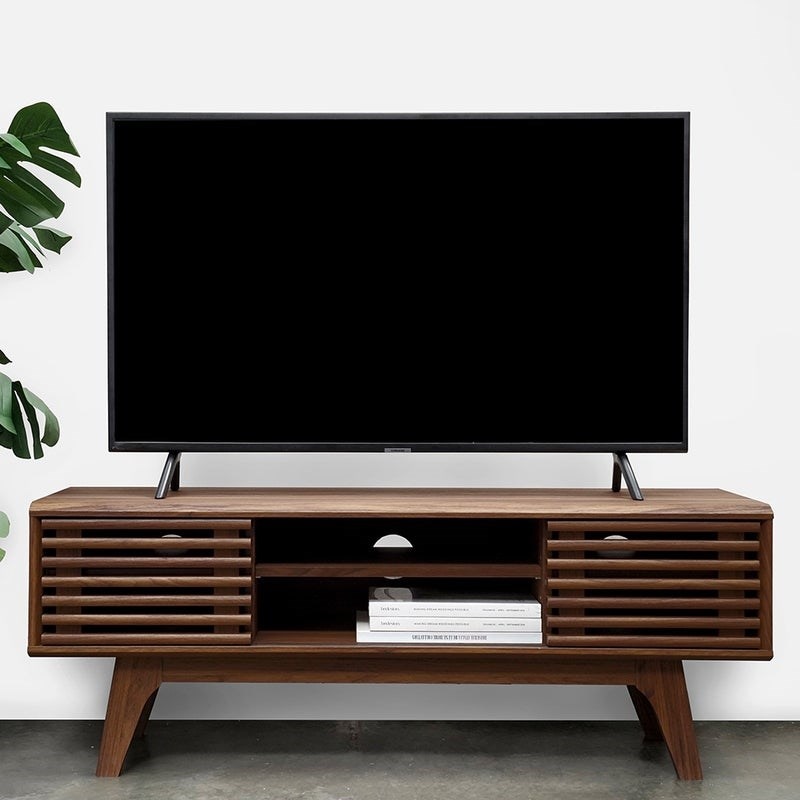 FAQS
What can you put in a TV unit?
An entertainment cabinet is a diverse furniture piece that can be used in many different rooms, which is why there are so many different items and products you can store within it.
A TV unit is the perfect hiding space for bulky items like consoles, remotes, and cords, but it can also double as a storage space for clutter. If you have shelves on your entertainment unit, you can even add more appeal to your area by decorating it with books, plants, candles, etc. At the end of the day, what you choose to store in your entertainment unit really comes down to the functionality it serves in the space.
What is an entertainment unit?
An entertainment unit is a type of cabinet specifically designed for housing entertainment. Including but not limited to your TV, DVD players, gaming consoles, remotes, and books. A TV unit is an eye-catching furniture piece that can be used throughout your home to add style and functionality to an area.
Where can you buy TV cabinets?
If you're on the market for a sophisticated TV cabinet that won't break the bank, then consider shopping at MyDeal. We have incredible deals and discounts on a wide range of quality entertainment units for your home, so you can shop with us no matter your budget. We even offer free shipping on selected units to take the work out of buying new items for your home.