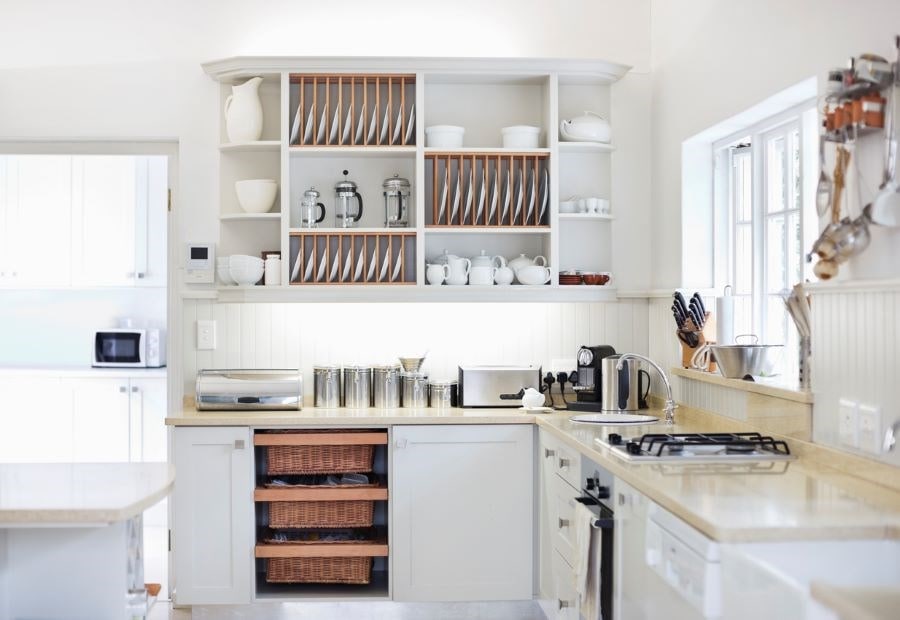 The kitchen is the heart of the house and keeping it clean can sometimes become a little complicated, especially if you have too many things to store. Not to worry! We have tried to break down the kitchen into different units to make the process of organisation easy for you.
Our kitchen organisation guide will help you place all your kitchen items from tools to utensils and pantry items. Follow our step-by-step guide to kitchen organising and become the proud owner of a sparkling clean and clutter-free kitchen.
Divide the Kitchen Into Zones
As mentioned before, we tried to divide the kitchen into individual sections. Doing this will make it easier for you to begin the organisation process.
Always start with the drawers and cabinets. Generally, the initial instinct would be to organise everything you can see on the counters, near the sink or the stove, etc. However, we suggest starting with the drawers and cabinets, as you might end up putting most things that are out on the counter inside a drawer. From there, you move onto the countertop and under the kitchen sink. After that, it's the biggest task of them all - The Pantry!
Organising Drawers and Cabinets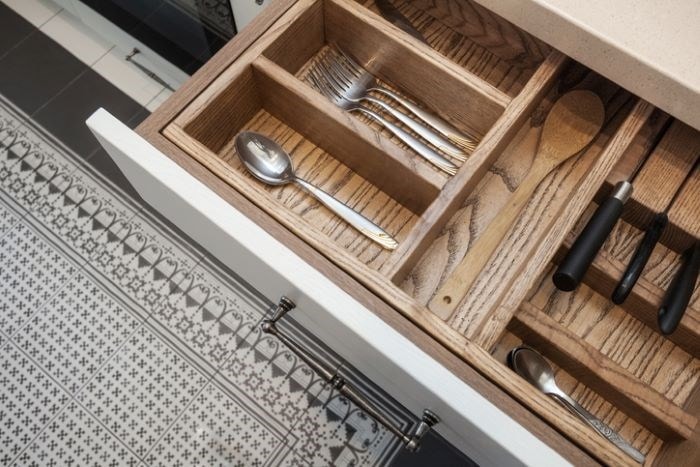 From spice jars to utensils and more, drawers and cabinets in the kitchen are an important part of just about any kitchen for storage. However, not every kitchen has an ample amount of these and if they do, you still need to organise them to utilise the storage space in the best way possible.
There are multiple types of drawer organisers that are specifically designed to store kitchen items. The ones that you should or might already have are cutlery trays. You can get different designs for cutlery trays. There are more compact ones available if you need to save up some space in the drawer for other things.
If you are one of those people who likes to keep their kitchen knives hidden away and not on the countertop, then a lean multiple knife block for drawers is what you need. Unlike the other knife blocks, these blocks are designed to fit into a drawer. Other drawer organisers include bamboo, plastic and wooden designs meant to store all kinds of kitchen tools.
If you need to make divisions in the drawer for the kitchen tools or even spices, then drawer dividers and small containers would do the trick.


Cabinet Storage Ideas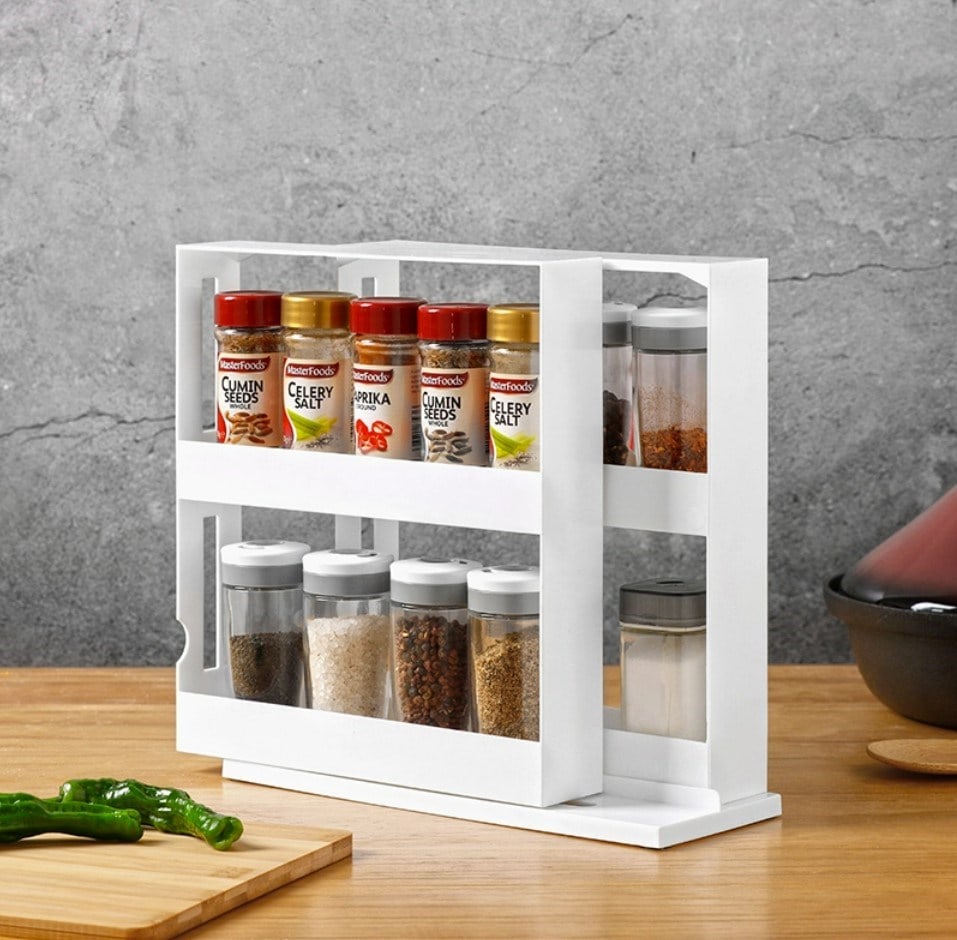 Is it too hard for you to reach the back of your cabinets? Installing some pull-out drawers will help you utilise the whole space. It will also be easier to add compartments in the drawer and slide it out whenever you need something instead of trying to reach the depth of the cabinets.
Lazy susans for spices. Yes, when you're dealing with a wide variety of spices, stacking one behind the other will do you no good. It's best to have accessibility to all your spices whenever you're cooking. Putting a lazy susan in your spice cabinet is a great way to ensure that you get hold of the spice you're looking for when cooking as quickly as possible. If lazy susans don't work for you, then there are a variety of spice racks that can fit into a cabinet and give you access to all your spices.


Utensil storage in cabinets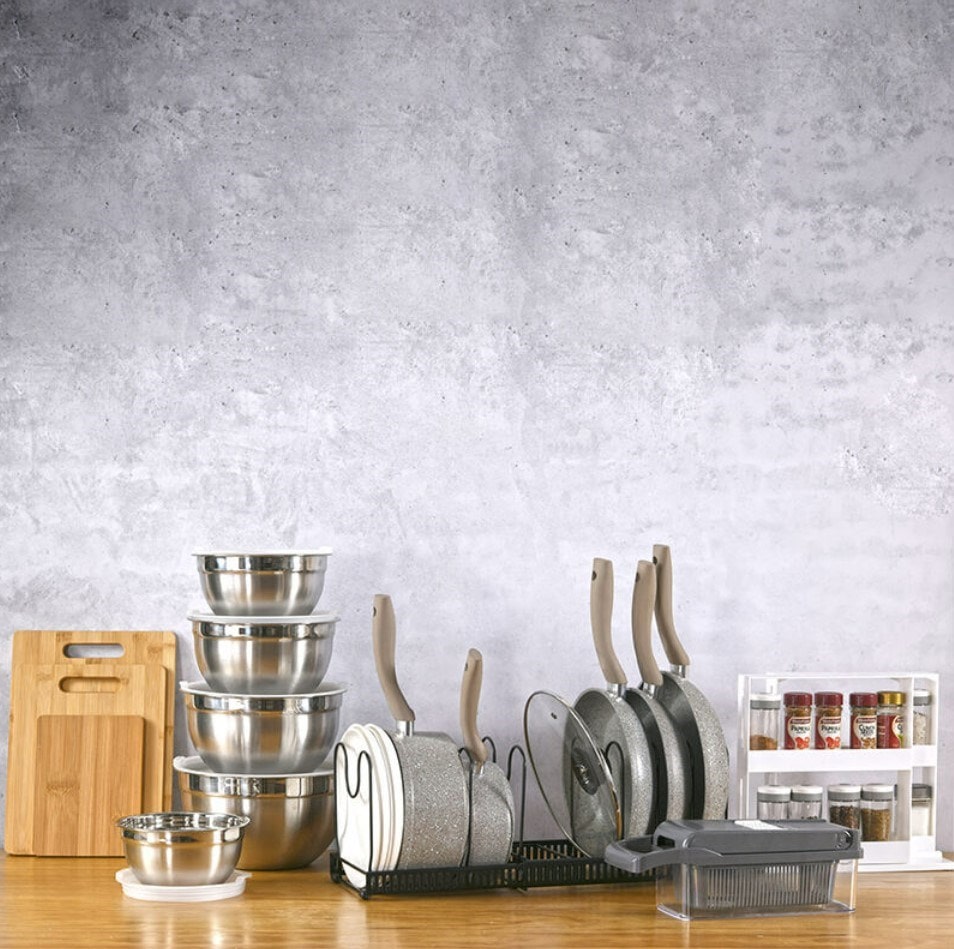 Pots and pans need a lot of storage space and if you have a lot of them you might need more space than you actually have. A great way to have double the space to store your pots and pans would be by installing racks. You can easily stack your pans in a rack, stacking pots in a rack may not always be possible.
Additionally, the lids of your pots and pans can be placed with their corresponding partners but we recommend keeping the lids separately. This move might just allow you to store a few pots within a bigger pot. The lids can be stored separately behind the cabinet doors. Just stick a pair of command hooks for one lid and that should hold it together. Add as many hooks as your cabinet's door allows and you can neatly place your pot and pan lids on it.


Under the Sink Cabinet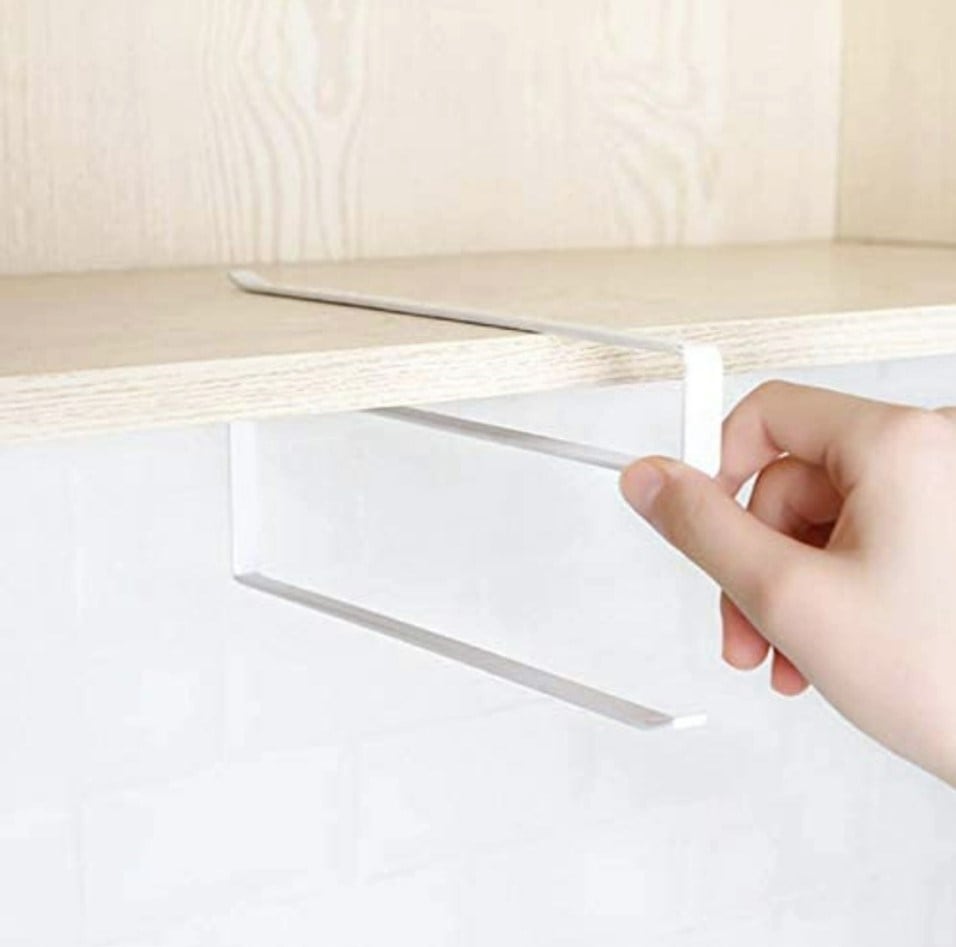 There needs to be a designated space for food waste in the kitchen. If you have a cabinet under the sink then you can keep your food waste trash can stashed there along with your trash bags. On the other hand, if you don't have a cabinet-like set-up for the under-sink area, then we would recommend setting it up. That enclosed space allows your kitchen to look much neater since nobody wants to look at a trash can when they enter a kitchen.
Find yourself a nice paper towel holder and use it for trash bags, if you're okay with drilling a hole in the cabinet wall. If you can't get your hands on paper towel holders then you can simply install a dowel under the sink to place the roll of trash bags on it. This way you won't have the roll of trash bags lying around in some random drawer and it will be available to you whenever you need it.
Furthermore, adding dowels to an area is not even that hard. You can simply use command hooks and set the dowel on it. Along with trash bags, you can use these for aluminium foil and kitchen towels as well.
Store Your Plastics and Storage Containers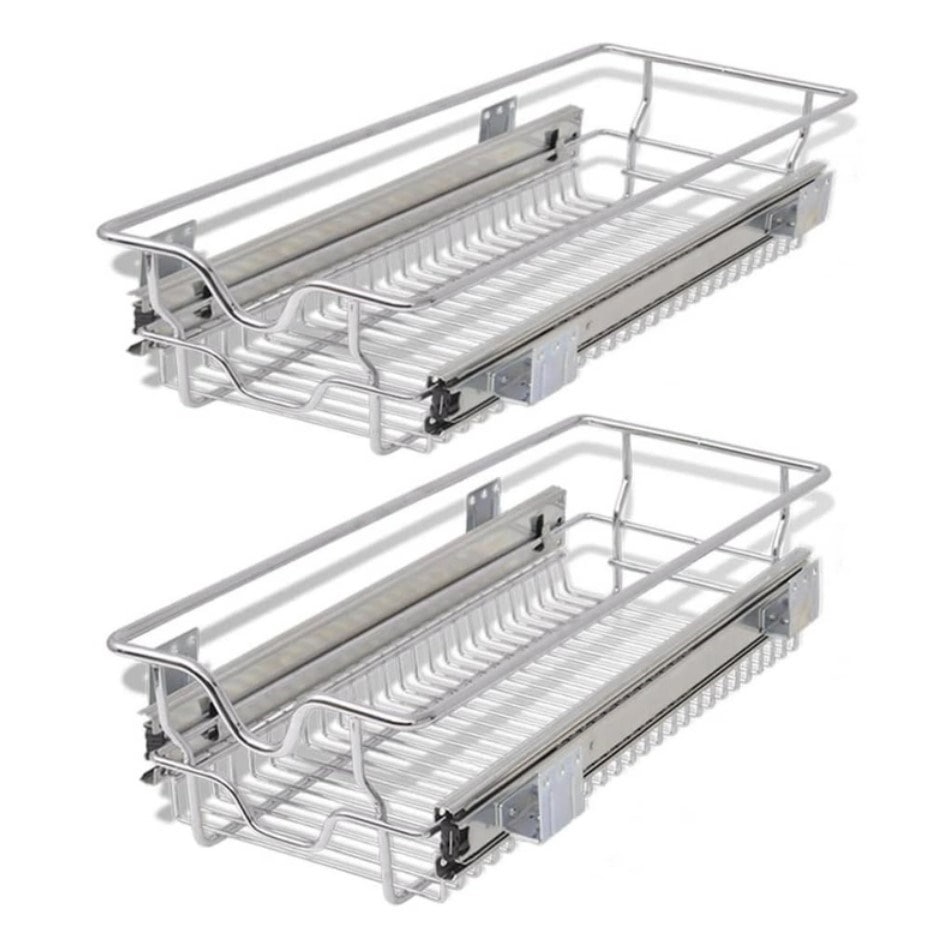 Cabinets offer you enough space to store big utensils and storage containers. Whether you have plastics or glass storage containers, you need to store them smartly so as to not use too much space. For plastic containers, you can store them one inside the other and use a pull-out plastic drawer that goes inside the cabinet. This will keep all the containers stay put.
With glass containers, we would recommend storing them inside each other but with the exception of adding a paper towel between the two to avoid cracks. Furthermore, glass containers are heavier, so a plastic pull-out drawer won't work in this case. We can only suggest storing them in a lower cabinet instead of ones that are above the height of the countertop. It is better to bend down and carefully take out glass containers instead of having to stretch to your full height and trying to manoeuvre a glass container containing other glass containers out of a cabinet.
Pantry Storage and Organisation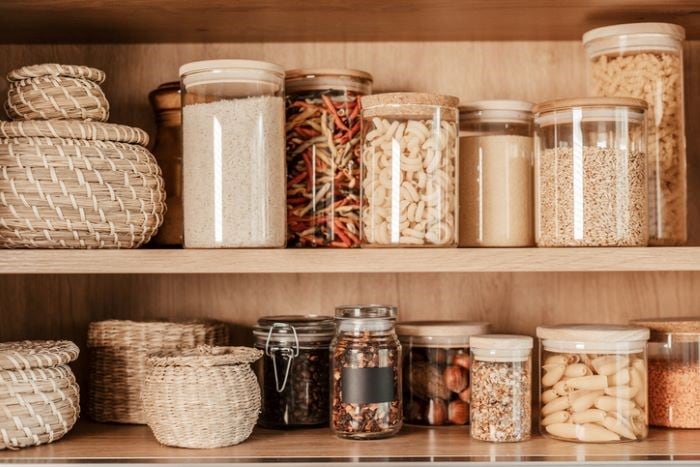 The pantry can get extremely chaotic if you haven't organised your pantry. There are so many things in the pantry that need to be visible in order for you to use or consume them. You can use a few tricks to organise the array of things you have in your pantry.


Fruit and Vegetable Storage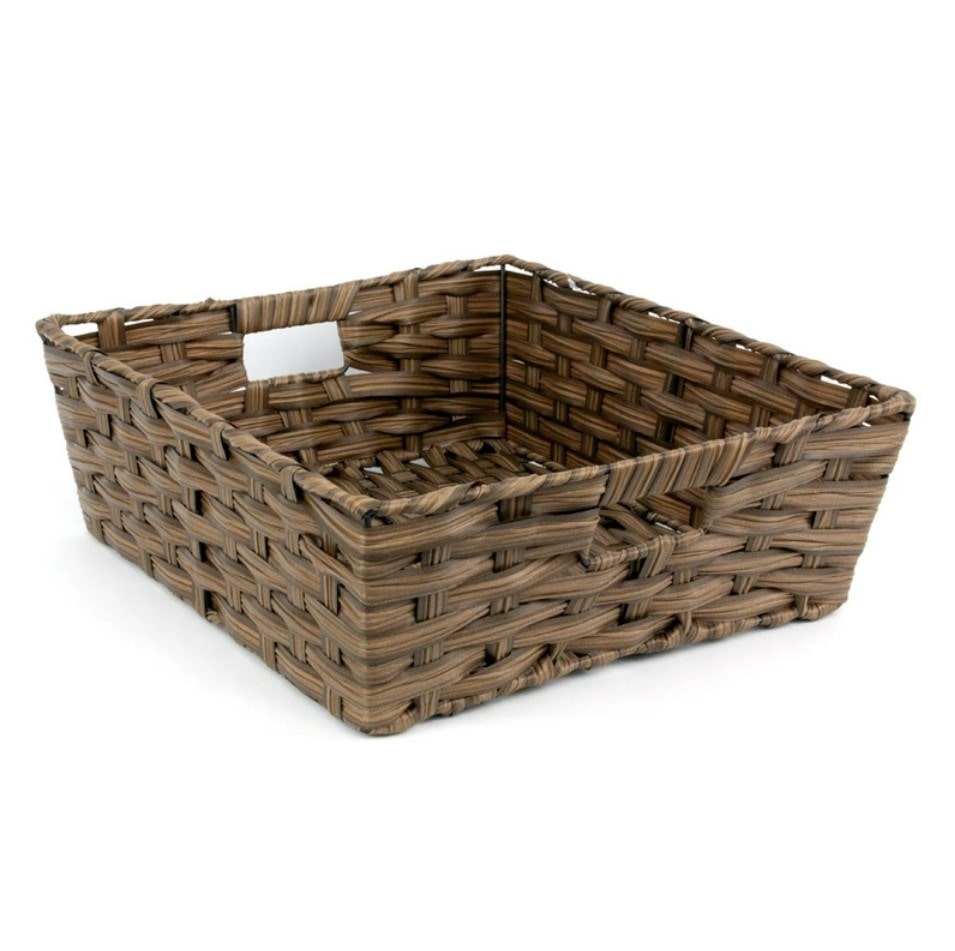 Not all vegetables need to be stored in the fridge. Those vegetables would go in the pantry. But you can't have potatoes rolling out of the pantry every time you open its door. Baskets are a great way to store these vegetables. Potatoes, onions and garlic can each be stored in a basket of their own. However, if you are trying to save up on space and a basket is too wide for your liking go for mesh desk organisers. The rectangular shape will allow them to snugly fit in a corner of the pantry as well.
Note: Store your potatoes and onions separately and also add some distance between their storage containers.
Slide Your things Out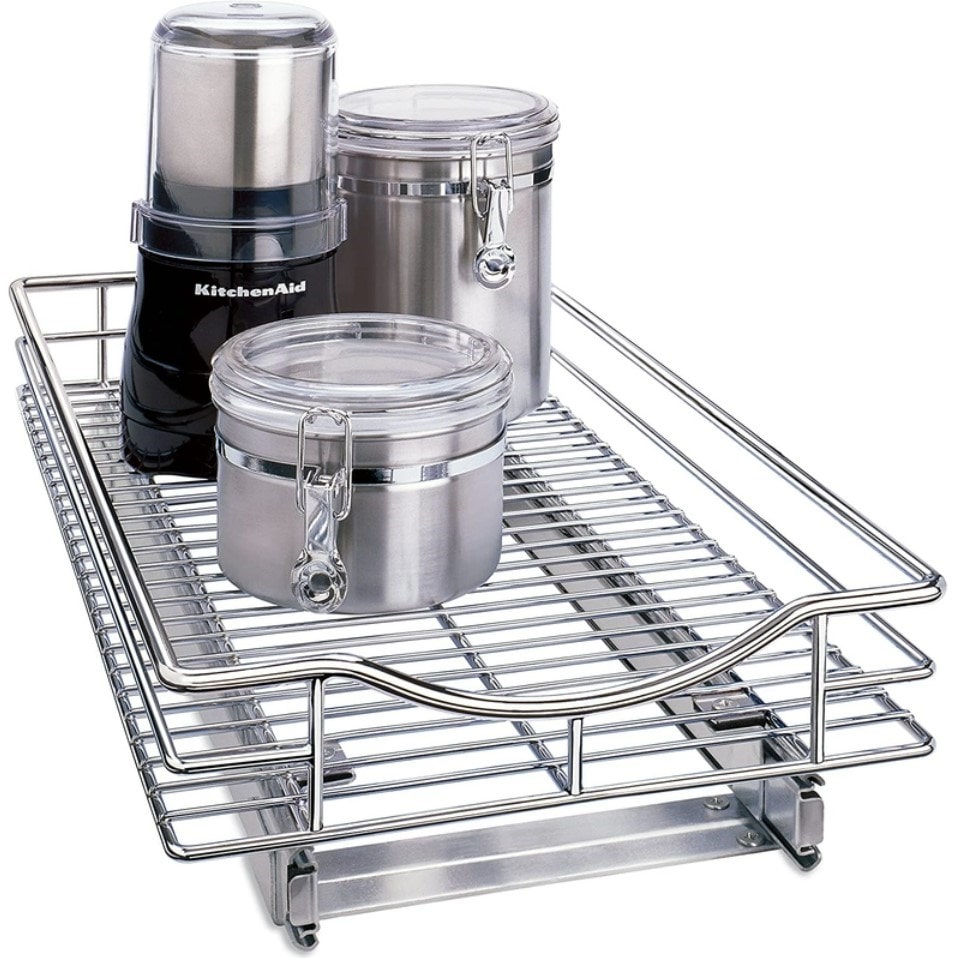 Wire drawers and sliding trays can be very helpful when you're trying to organise a pantry. Divide your pantry items into different categories like - ready to eat, pasta and noodles, rice and flour, etc., and then store these items accordingly. You can assign a drawer for the stuff that comes in different shapes and sizes. At the same time, you can use a sliding drawer with different compartments to fit in things that are similarly shaped.
Fabric Shoe Organisers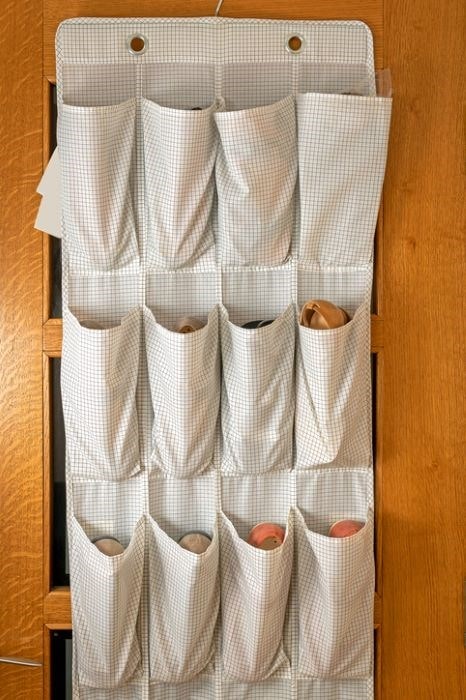 This doesn't seem right. Right? No, it may not but it will come in handy. Frankly, if you can use desk organisers to store vegetables then you definitely use a shoe organiser for your snacks. To be more specific, we are referring to the fabric shoe organiser that can be hung behind a door. The compartments meant for shoes are perfect for your snacks. If you love snacking and feel like your pantry is overflowing with them, then just use this hack to compartmentalise your snacks and the rest of the pantry along with them.
Take Them Out Of The Box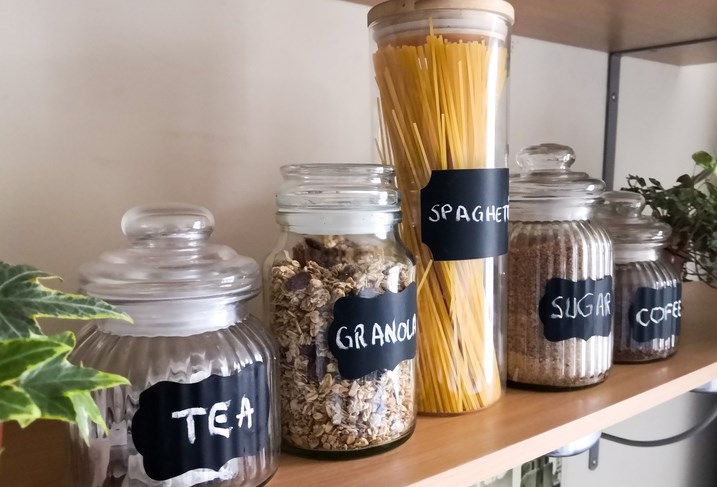 Oats, cereal, cookies, flour, rice, and more come in different containers. If you want to make things easier for yourself, then get yourself some containers. Use a set of storage containers for all your packaged items. More importantly, name them. You can either use name tags or simply use a marker to name the containers.
If you like playing Tetris, this storage tip is for you. See-through air-tight containers that are named can make your life so much easier. You can just grab the ingredient you're looking for instead of rummaging through a mountain of different boxes.
Tip: Use glass airtight containers as an eco-friendly option. Moreover, glass containers last longer and are a healthier option.
General Organisation Tips
While the major areas of the kitchen have been covered above, there are a few other things you can look into.
Use a utensil holder for your ladles, spatulas, whisks and serving spoons.

You need to keep your baking measurement cups and other baking tools in a separate area. Assign a drawer for all baking tools and compartmentalise using plastic dividers or small containers.

Make sure all your big storage containers, whether they are in the pantry or cabinets, are transparent.

Use a container or area in your pantry for things that need to be consumed by a certain date.
When it comes to kitchen organisation, you have to include the fridge. If you need help organising your fridge or making it look Instagram worthy, then take a look at our fridge organising tips. An organised fridge will not just make it look good but also make you feel good. In fact, an organised kitchen can really help you organise your thoughts along with your meals. You will actually enjoy your time in the kitchen more if things are kept in the right place and are easy to find.