Buying a mattress that caters to your unique sleeping style has never been easier with lots of sizes, materials and types to choose from. However, buying the right mattress for you isn't as easy as picking the first one you see. There are some critical factors to consider first.
If you have been searching for a new bed, you've probably heard the term memory foam, an alternative mattress to the traditional spring bed that's packed with tons of benefits.
So, before you buy a memory foam mattress, consider the tips and useful information in our
comprehensive guide.
Does Your Mattress Need Replacing?
The period your mattress can last depends on how you care for and protect it. Most commonly, beds need to be replaced every six to eight years.
However, if you properly clean the bed properly and regularly, you may find your mattress can last for upwards of ten years. Mattresses are a long-term investment that will support you thoroughly into the future, so you want to ensure you have one that perfectly matches your sleeping pattern.
Why Should You Buy A Memory Foam Mattress?
A memory foam bed is unlike any other mattress and can benefit its user in multiple ways. Some of the main perks include:
- Its plush feel: The top layers of a memory foam mattress are specifically designed to be softer than the bottom sturdier layers. It offers a cloud-like feeling that's exceptionally comfortable.

- Moulds to your body: The memory foam mattress gets its name from the way it remembers your body's sleeping position for optimal support and comfort. It provides a customisable sleep, unlike any other mattress.

- Unmatched pressure-relief: Because a memory foam mattress evenly distributes body weight, it can relieve pressure in your joints to help you feel energised and refreshed following a solid night's sleep.

- Hyperallergic & bug resistant: Like the latex mattress, a memory foam bed has a tight design that allows less free space for bugs, dust mites and dirt.

- Reduces motion transfer: The memory foam mattress absorbs movement to ensure you sleep soundly throughout the night.

What is Memory Foam?
Understanding what memory foam is, makes it easier to determine if it's the right mattress type for you. Originally designed as padding for the astronauts at NASA, memory foam is very protective. It's made from a substance called viscoelastic polyethylene or polymer, a form of plastic commonly used to make insulation, liquid paints, primers, elastic fibres, car parts and, of course, memory foam.
Because it's highly absorbent and soft, it makes for a fantastic mattress type that exploded onto the market in the 1990s and quickly became one of the most popular choices. It uniquely moulds to your body through heat. As you lie on the bed, it should slowly compress around you to offer extreme support and softness.
The Common Construction Of Memory Foam
The memory foam mattress is multi-layered for premium comfort. The arrangement of the layers can differ to meet the needs of individuals; however, the traditional and most common way they're designed is:
- On top - The comfort levels: To offer the ultimate plush feeling that will relax you all night long, the top layers of a memory foam mattress are usually softer and contour to your body. These layers are also made to be very breathable.

- In the middle - The transition layers: These levels are designed to provide comfort with a slightly firmer feel for added support.

- On the bottom - The core: This level is the most important as it keeps the mattress sturdy. Therefore, it's a lot firmer than the top layers.

The Different Types Of Memory Foam Mattresses
1. The Traditional Memory Foam Mattress: This was the first memory foam mattress to hit the market which offers a supportive and pressure relieving feeling. With a closed-cell design, the classic and original memory mattress is hypoallergenic, and like the latex mattress, it doesn't contain any coils. Making it superiorly comfortable and resistant to dust mites or dirt. However, the original memory foam mattress tends to absorb heat and is denser than the newer versions. So, if you get hot as you sleep, this may NOT be the right choice for you.

2. The Open Cell Memory Foam Mattress: Although the open cell mattress has the same materials as a traditional memory foam mattress, the newer bed was designed with better technology, meaning it properly dispenses heat and regulates it, so you won't overheat while you're sleeping. As the name suggests, the open cell memory foam mattress has an internal pocket for ventilation and proper airflow. Compared to the traditional memory foam mattress, it's lightweight and responds better to your body without making you feel like you're sinking deep into your bed.

3. The Gel Memory Foam Mattress: Like the open-cell memory foam mattress, the gel version is fantastic at regulating heat and reduces the pressure on your joints while you sleep. It also has a similar design to the open-cell mattress; however, this bed has gel inserted into its structure, which keeps it from retaining heat.
Note: Many modern memory foam mattresses combine all three mattress types for the ultimate comfort and support.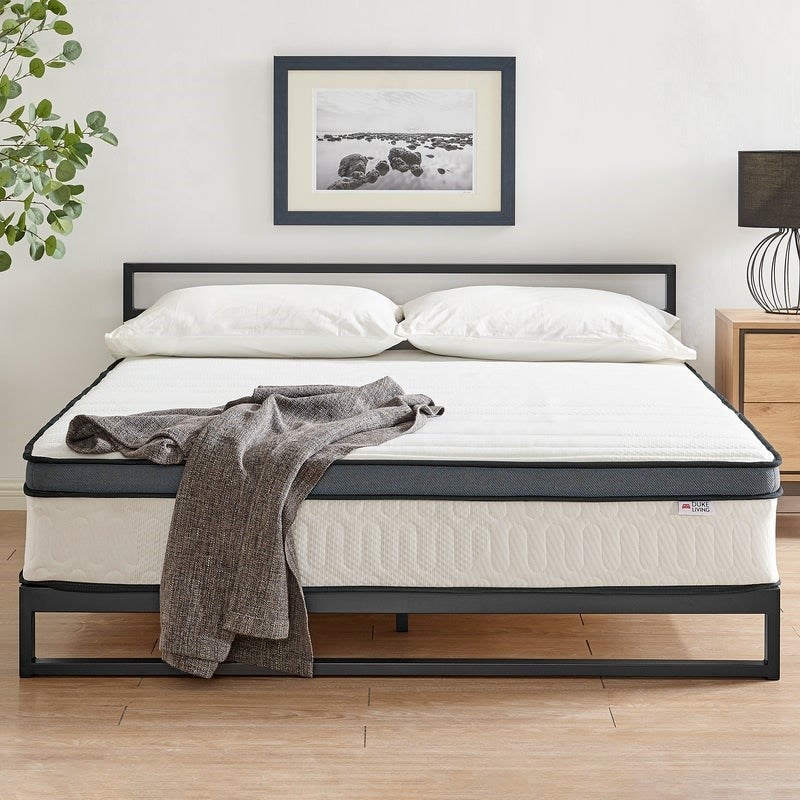 Who Is The Memory Foam Mattress Suitable For?
The best thing about a memory foam mattress is that it's perfect for most sleepers and their sleeping styles. It's the ideal choice if:
- You have a sleeping partner: With the benefits including the reduction of motion and its coil-free design, the memory foam mattress means you won't be disturbed by your partner's movement whether they're turning in their sleep or getting up.

- You're suffering from back pain: Because it moulds to your exact body type and evens out weight, memory foam reduces the pressure on your back and relieves it.

- You're hunting for a long-lasting mattress: Because the memory foam mattress has a compacted form, it's very durable and a fantastic long-term investment.

- You're after a healthier mattress: Memory foam mattresses are a very safe choice with an insanely reduced risk of contracting dust mites and bugs than what a spring mattress does.

- Sleep in one position: Memory foam takes longer to resume its original form, which makes it perfect for those who lie in one place and don't move around a lot.
Who Should Avoid A Memory Foam Mattress
While a memory foam mattress is a great all-arounder that caters to many needs and has loads of benefits, there are a few reasons why it may not be the suitable choice for you.
Everyone has different preferences and likes, some may absolutely love the feeling of a memory foam mattress, and some may not. Generally, those who may have issues with a memory foam mattress are those who:
1. Are strictly a stomach sleeper: When you lie on a memory foam mattress, you'll feel like you're sinking in as the material moulds to your body through heat. Suppose you sleep on your stomach. The mattress sinking around your mattress could feel like you're being surrounded. However, this doesn't mean you can't buy a memory foam; it just means you should consider a firmer version that has less of that sink in feeling.
2. Get hot when they sleep: Although the newer versions of the memory foam mattress can properly circulate air and reduce heat, they can still contain more warmth than a spring mattress would. If you do get hot when you sleep, it's essential you buy a memory foam mattress that has cooling capabilities, such as a gel bed.
Is Memory Foam Safe For Your Kids?
Determining whether or not you buy a memory foam mattress for your children depends on their age.
Memory foam is fantastic for thoroughly supporting the growing bodies of children and teenagers. But because it's praised for being a healthy mattress choice, people assume it will be great for infants and toddlers, but in fact, it's the opposite. A Memory Foam Mattress is not recommended for toddlers or babies.
Some memory foam mattresses may consume carbon dioxide which can increase the risk of sudden infant death syndrome (SIDS) in kids. Therefore it's best to opt for a firm spring mattress instead.
How It Contours Different Sleeping Styles
The great thing about choosing a memory foam mattress is that it suits all sleeping styles and reacts to them differently.
- Sleep on your back: Memory foam conforms to your spine for proper lumbar support and relieves any pressure built up in your shoulders, lower back or spine.

- Sleep on your stomach: Memory foam supports the natural curve of your back. However, because you sleep face down, you may want to consider a FIRM mattress rather than a soft one. So, you can avoid the feeling that you're being surrounded and unable to breathe.

- Sleep on your side: Memory foam evenly distributes around your essential joints, hips and shoulders while thoroughly supporting your waist for a healthy alignment. Plus, it also relieves any pressure on these joints.

- Combination sleeper: Whatever your position, the memory foam mattresses should thoroughly support all your joints and make you feel comfortable. However, because a memory foam mattress sinks under your weight while leaving the surrounding areas firm, you may find it hard to move around if you toss and turn throughout the night.
Consider The Firmness Levels
This may seem like an impossible task to do online, but it's straightforward once you know what to look for. Every type of mattress comes with a different firmness level to cater to different styles.
Firm: Best for stomach sleepers.

Med-Firm:

Perfect for back or combination sleepers.

Plush:

Ideal for side sleepers
If you are shopping online, look for the indentation load deflection (ILD), the rating of how firm or soft the mattress is. Generally, a 12 ILD is soft, and a 50 ILD is very firm. So the most popular choice is anywhere in the '20s.
How To Make Memory Foam Even Softer
When you get a new mattress, it can initially feel too hard for your body. But this most likely means that the old mattress you were using wasn't giving you the proper support. So, give your body time to adapt to the bed first, then after about a month, you can decide if you need further comfort levels or not. A mattress topper is a perfect solution if you want some added softness but test out your mattress first before buying one.
Allow Time For Your Mattress To Adjust
Just like any other new mattress, a memory foam bed and your body need time to get used to each other and adapt accordingly. It's crucial that when you get your bed, especially if you buy it online, you allow it to air and expand for 24 hours before you sleep on it.
It may take some time for your body to get used to the new, more supportive mattress that may seem firm at first, but give it about a month, and it should be perfectly supportive and comfortable for you.
Common Mistakes About The Memory Foam Mattress
1. Memory Foam Retains Heat: When memory foam first hit the mattress market, it did absorb more heat than a spring mattress would because of a lack of technology.

However, with massive advancements in their design and structure, memory foam mattresses now come with cooling abilities and better airflow capabilities. Any bed can feel hot depending on what type of sheets you use, and these factors could be the real reason you feel hot, not the mattress.

2. Memory Foam Is Too Expensive: Because it's still a new type of mattress, people commonly state it's too expensive for their price range which is not valid. The price of any mattress depends on different circumstances, like where you get it from if you've had it custom made or had it shipped from another country.

Premium custom-made versions of any mattress can cost A LOT of money and can be an unnecessary waste, especially if you're buying a memory foam bed. Memory foam moulds to your unique body type, which means it's already tailored to your own body and renders customizability useless. Like most other mattresses, the standard price for a memory foam bed can be anywhere between $300-$600; however, you can buy high-quality ones at a super affordable price at MyDeal for as little as $90.

3. Memory Foam Has A Chemical Smell: To ensure they're safe for their users, most mattresses are treated with a flame retardant before they're sent out, which means when you first get them out of the plastic, they can carry a chemical odour. However, it will fade quickly, so there's no reason to stress. You simply need to let it air for 24 hours before you put any sheets on it. This also gives it time to expand correctly.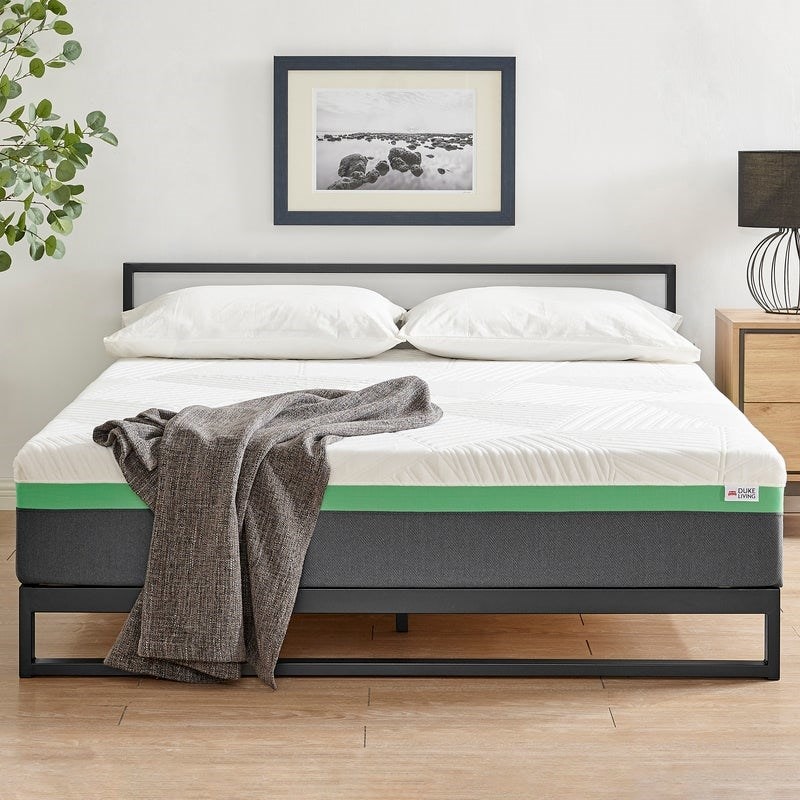 With the knowledge you gathered here, you should now be able to correctly determine what memory foam mattress is best for you and what to look out for before you buy one.
Here at MyDeal, we offer a variety of high-quality memory foam mattresses at affordable prices. Shop conveniently online with us, save big and receive free shipping on selected beds delivered directly to your door. There's never been a better time or place to buy than with MyDeal today.
FAQS
1. Can you flip a memory foam mattress?
Unlike the other mattress types, you CANNOT flip a memory foam mattress, nor do you need to. Because they're designed with the foam on the top layers of the bed, memory foam mattresses aren't meant to be flipped ever. Furthermore, if you do flip it, the mattress will probably feel uncomfortable, but you can rotate them for optimal sleep space.
2. How do you look after your memory foam mattress?
Like any other mattress you want to last a long time, it's essential to care for and clean your memory foam bed properly. It's easy to do too; you'll just need to clean it every few months with a vacuum and cleaning supplies which you can do when you rotate your mattress.
If you wish to know how to properly clean your mattress, you can check out our comprehensive guide HERE.
Another great way to look after your mattress is to add a mattress topper for added protection. These can reduce the need to clean your bed, make it resistant to slips and messes, and even make your bed more comfortable.
3. Will an electric blanket damage a memory foam mattress?
No, it's perfectly fine to put an electric blanket on your memory foam mattress for those cold winter months. Just like every other mattress, it's treated with flame retardant for your safety. But it's important to remember the basic rules of electric blankets, like ensuring you turn them off and only using them when you're home.
4. Can you sleep on your memory foam mattress right away?
Yes, you can sleep on a memory foam mattress as soon as you get it, whether it's an in-store purchase or online, however, it's not recommended. While you won't cause any damage to your bed doing so, because it needs time to expand appropriately you may find it's not as supportive or as comfortable as it could be if you wait 24 hours. Of course, it's entirely up to you, but for your benefit and the mattresses, it's best to give it time to adjust appropriately.