There's nothing better than cosying up in a warm bed after a long day. But during winter, your bed can feel as cold as the Atlantic. If you want to avoid feeling like you're snuggling upon an iceberg, you should consider buying an electric blanket for your bed. They provide warmth when the air is unseasonably cool and fit seamlessly on top of your mattress. Electric blankets are a solid investment and an affordable way to heat your space.
An electric blanket is a safe alternative to heating your whole room, and it's economical too. In fact, it cost only 4 cents an hour to run. Providing concentrated heat, an electric blanket is affordable and comes in various styles and materials.
Can You Put An Electric Blanket On Your Mattress Type?
So, you've bought a new mattress to up your sleeping game, and now you're considering an electric blanket to keep you warm in the winter months. An electric blanket is an excellent, energy-saving way to heat your bedroom. The great thing about an electric blanket is that it's entirely safe to layer on top of any mattresses besides a waterbed. Whether you have a traditional spring mattress, latex or even memory foam, an electric blanket is completely fine to be used. Simply choose your size and place it on top of your bed before your sheets for a
comfortable sleeping temperature.
However, while it's not unsafe to put an electric blanket on a memory foam mattress, it's not recommended. Unlike other types of mattresses, memory foam moulds to your body's structure through heat and slowly sinks beneath the weight.
Because of its unique contouring style, adding an electric blanket could compromise its ability to mould your body correctly. So, it's best to avoid using them on memory foam beds, but the good news is the memory foam absorbs heat, so you shouldn't even need an electric blanket.
Are Electric Blankets Safe?
Electric blankets have a terrible reputation for being very unsafe, but that's just a misconception. The modern versions of electric blankets are made with resistant wires that have good insulation and conduct heat incredibly safely. Current versions also commonly come with timer remotes to ensure they don't lead to any fires.
However, that being said, there are some common yet crucial things to remember for safe, practical warming use in your bed.
1. Don't keep it on at all times. These days, electric blankets only take minutes to warm up, deeming it unnecessary to heat for lengthy periods. The longer you leave the blanket on, the higher the risk of forgetting about it, which could be potentially dangerous.

2. Don't leave electrical equipment on the blanket for too long.

Whether it's your phone, laptop or iPad, leaving appliances on your bed while you have an electric blanket on can cause your bed and your device to overheat. This increases the risk of potential fires, so avoid placing them on the bed while the blanket is on.

3. Ensure The Electric Blanket Is Completely Flat. If your blanket is folded up or bunched together, it can trap heat, so it's essential that when you place it on your mattress, it's pulled tightly across the surface.

4. Don't Sleep On Them While They're On.

Sleeping on your bed while the electric blanket is on can lead to overheating and sweating, as well as increase the risk of trapping unnecessary heat. So, always ensure you turn it off before jumping into bed. Don't worry; once the blanket has warmed up your bed, it will stay warm for ages.
Is An Electric Blanket Safe To Use While Pregnant?
There's no reason you can't use an electric blanket during your pregnancy. It's completely safe to do so, and it can help keep you and your little one warm. However, it's VERY important to keep the temperature of your electric blanket low. Increased high temperatures can cause your body to overheat, which isn't good for the baby. Therefore, always keep it warm, not hot, and turn it off before jumping into bed.
The Features You Should Want In An Electric Blanket
1. The Types You Buy Matters

Electric blankets come in two different styles: Fitted and tied down. The most common and convenient option is a fitted sheet that seals around a mattress securely for a comfortable sleep. Alternatively, a tie-down blanket can move around more efficiently, so you can easily remove it. A tie-down is the more affordable choice, but a fitted electric blanket is the superior one.

2. Choosing The Correct Size

Luckily, discovering the right sized electric blanket for your mattress is easy and super simple. For a convenient selection process, electric blankets come in the same exact sizes as mattresses do; single, king-single, double, queen and king. So, all you have to do is match the size of your existing bed to the electric blanket you're choosing. For the most accurate reading, check the measurements of your bed and align them with the measurements of the electric blanket you considering.

3. The Electric Blanket Material Suited To Your Needs

Electric blankets are most commonly made with synthetic materials; however, some come in natural fibres instead. If you're an allergy or asthma sufferer, you should consider a natural option that's antibacterial. Synthetic versions are more affordable, so if you're looking to save some money, it's the choice for you.

4. The advantages of separate remotes

An electric blanket that comes with separate remotes is a must. Practical and convenient, dual control systems means you can warm one side of the bed without heating the other. Perfect for couples or sleeping partners. If you're looking for an electric blanket for your guest bedroom, separate remotes are necessary for their complete comfort.

5. Machine Washable

Although not completely necessary, having an electric blanket you can simply throw off and put in the wash makes the cleaning process easier and is a great alternative to hand washing.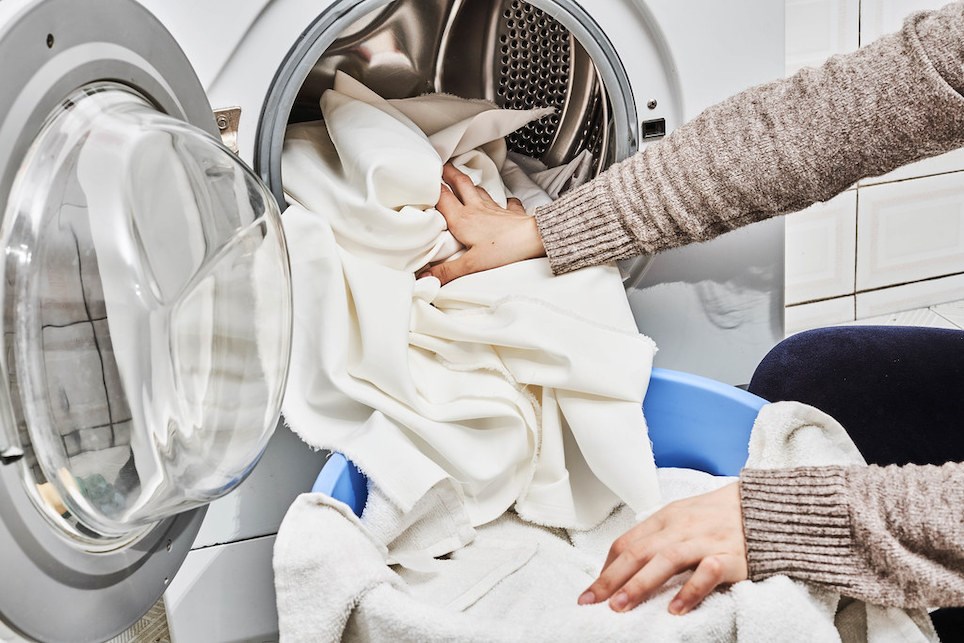 Photo: Loading washing machine by Marco Verch under Creative Commons 2.0
Can You Wash Electric Blankets?
While it may not seem like it, you can wash your electric blankets to remove dust, dirt, stains or messes. There are two ways to do so depending on the electric blanket type.
Firstly, you can hand wash it. Simple and effective if you don't have a blanket that can be put in a machine, hand washing is a great alternative that won't take long. First, ensure your blanket is unplugged, then strip the blanket from the bed and place it in a tub full of cool water and natural or mild laundry detergent. Don't use heavy-duty liquids because they can damage the integrity of the blanket. Ensure your control panels and wire ends are entirely out of the water while you do this. Soak for ten to twenty minutes before running through with cool water to remove the soap. Place in a shady place until dry, then place back on the bed.
Machine wash your electric blankets. Make sure you read the electric blanket's care instructions carefully before putting your blanket in the machine so you don't damage it. If the instructions say it's perfectly fine to put in the wash, simply place it in the machine with mild detergent to clean your electric blanket softly. Ensure it's on a delicate or soft wash setting for its protection and only run for a few minutes (it doesn't require a complete cycle, just as a quick wash over). Don't bleach or dry clean!
Electric Throws
If you're not entirely sold on an electric blanket and would prefer a heating option that moves around with you, then perhaps you should consider an electric throw blanket instead. Sit on your couch, outdoor area or even on your hardwood floors completely warm and comfortable with an electric throw. They're commonly machine washable and come with timers for your safety. They can even act as a heat pack to relieve pain in the body.
Discover a variety of quality electric blankets suitable for all bed types at MyDeal today. You'll be shocked at our insanely affordable prices.