Download
the MyDeal App
Join the thousands of Aussies using the MyDeal app and start saving today on our massive range of furniture, homewares and lifestyle products.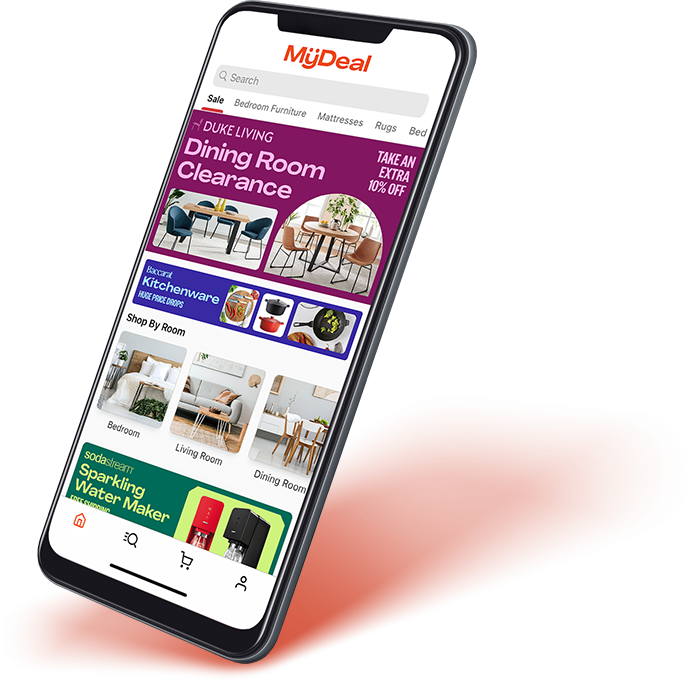 iOS
The MyDeal app is the easiest way to shop online. Download it from the App Store or simply scan the QR code below and grab a great deal now.
Android
Shop on the go with the MyDeal mobile app by downloading it from the Google Play Store or simply scanning the QR code below!

App Exclusive Deals

You'll get access to millions of deals plus app-only bargains with the touch of a button when you use the MyDeal App. With amazing deals and discounts from leading brands and retailers, our app is the best place in Australia to discover the best bargains for your home.

Discover Deals by
Room or Category

With over 6 million products and heaps of daily deals and discounts, we guarantee you'll find exactly what you're looking for on the MyDeal app. We stock products from big and small brands like Samsung, DukeLiving, Artiss, Coleman and much more.

Shop your way, with everything to deck out your home in one space, online. Shop by room search or browse by category with access to over 3,000 lifestyle categories to help you find exactly what you're hunting for.

Seamless Checkout
Experience & Track Orders

The MyDeal mobile app offers a seamless checkout experience, where you can securely save multiple payment methods and addresses for future purchases. Plus, you can use the one-tap checkout to purchase a deal fast, on the go and at any time. When you buy through the app, you'll also receive notifications through the delivery process with order updates and easy tracking for the best shopping experience.

New Sale Events Every Day

That's right, with the MyDeal app, you'll have access to thousands of new daily deals updated every day so that you can buy a high-quality product at a fraction of the cost.

At MyDeal, we work to always bring you the best deals on all our products which is why we have over 6 million deals and thousands of price drops and sales storewide. As a bonus, take the hassle out of buying any product when you shop online with our app and have your products delivered directly to your door.

Pay Your Way

At MyDeal, we offer a range of payment options so you can pay the way you prefer securely. Shop now and pay later with Afterpay, Zip Pay and Openpay available. We accept a range of payment methods from American Express to Visa and Mastercard and also PayPal.
What Our Customers Think